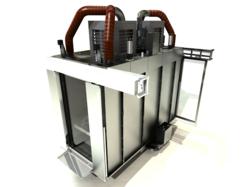 Jackson, MI (PRWEB) May 28, 2011
Midbrook Medical, the Jackson, MI, based manufacturer of custom fabricated medical equipment and decontamination systems has seen increased interest in their ability to provide custom sizes and styles of equipment to solve unique problems within medical facilities. Midbrook Medical is able to design and build a wide range of fabricated equipment and washers to customer specifications that cannot be met by the standard models of other distribution companies.
There is certainly no shortage of providers of medical equipment. The healthcare facility looking to purchase new equipment is faced with a large number of choices. Unfortunately, most of these limit their offerings to a selection of standard sizes and models. If these models don't fit the needs of the facility, they are forced to adapt their needs to fit the equipment. This is where Midbrook Medical steps in.
With 35 years of experience as a custom metal fabrication house, Midbrook is able to design and build sizes and styles of equipment that conform to a facility's needs. From custom cabinetry built to fit a hospital's floor plan to custom carts needed for a specific task, Midbrook can listen to the input provided by the customer and develop a design that suits their needs. They will then build the equipment at their Jackson, MI fabrication facility, allowing them to make sure the product meets quality requirements before it ships. Midbrook is also EPA registered to work with antimicrobial copper, allowing them to fabricate tables, carts and other equipment from both stainless steel and copper.
As a world leader in custom washing equipment, Midbrook is also uniquely positioned to provide custom cart and instrument washers. Even more so than fabricated equipment, medical washers are designed and built to standard models and sizes. This creates problems when a healthcare facility has space constraints or special needs. Midbrook Medical is able to build a custom washer that will fit within the footprint available. "We get the jobs no one else wants," says Midbrook Medical Vice President Jamie Crowley. "We get the cart washer order when the central sterile processing department has an elevator shaft that can't be moved. We get the tunnel washer order when the belt width goes beyond the normal size." Midbrook Medical can provide solutions to these problems that many larger manufacturers, who offer only standard models, cannot accommodate.
Midbrook Medical expects interest in custom designed medical equipment to continue to rise as more facilities with special equipment needs begin to explore their options. Due to their in house fabrication capabilities, Midbrook is ideally positioned to provide healthcare facilities with affordable, quality equipment that is custom designed and built specifically for them.
For more information about Midbrook Medical and its custom fabricated medical equipment and decontamination systems visit http://www.midbrookmedical.com, or call 1-517-787-3481.
Midbrook Medical is the minority owned, women owned, Michigan based solution provider to the Healthcare market. Midbrook is not a medical company looking to be a copy cat distributer of decontamination equipment. Rather, Midbrook is the world leader in custom designed, process specific cleaning equipment focused on taking the expertise learned in other industries and applying it effectively to issues within the medical industry in order to provide cleaner instruments that will, in turn, make sterilization more effective.
# # #