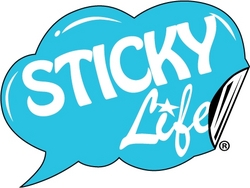 Many tools exist which allow us to speak our minds -- Facebook, blogs and all kinds of mobile devices
Newton Grove, NC (PRWEB) August 20, 2009
StickyLife.com is proud to announce its grand opening, at StickyLife.com . StickyLife.com is an online store that specializes in fun, customizable products such as decals, stickers, magnets, temporary tattoos, dog tags, signs, monograms and more. Customizable options are endless with unique shapes, colors, sizes and the ability to add text, graphics or photos make the process fun and entertaining.
"Many tools exist which allow us to speak our minds -- Facebook, blogs and all kinds of mobile devices," says Nathaniel Fisher of StickyLife.com. "Even with all these new social outlets it's becoming more and more difficult to stand out from the crowd. StickyLife.com can provide all the tools for an individual to create a statement without a huge price tag or time consuming social media applications. If you can think it, you can stick it!"
StickyLife.com offers customizable products such as decals, stickers, temporary tattoos, key chains, banners, license plates, bumper stickers and lots more. Its products are unique in many ways. Their custom stickers alone have over 100 different shapes, 118 different color combinations and a wide array of sizes. These custom stickers & decals are available in many unique shapes that range from simple standard shapes (ovals, octagons, etc.) to fun shapes (hearts, diamonds, speech bubbles, crowns, stars, etc.). StickyLife.com also has state shapes, sport shapes and fun animal shapes available for personalization. For ideas on the variety of products to personalize, check out this YouTube video .
"Before Stickylife.com came along, you would have to track down a local sign shop, drive there, and then try to communicate your idea to the sign shop employee," says Fisher. "We have eliminated those frustrations by making it possible for you to go online in the comfort of your own home and design exactly what you're looking for. Our elimination of the middle man allows you to create your own cool product online, which saves our customers time and money -- plus, it's fun!"
"How many times have you thought of the perfect bumper sticker? Where do you go? Who do you ask? StickyLife.com. Perhaps you're craving a new tattoo but want see how it looks before going to the tattoo parlor. Where can you find someone to make just one temporary tattoo for your unique concept? StickyLife.com will create your vision, one temporary tattoo at a time."
"Have you seen those Euro oval stickers that are popular these days, displaying some kind of a shout out to a random location or destination? Upgrade and be original by creating a custom state-shaped sticker or decal that displays your passion. Instead of a boring, white oval sticker with text reading 'Houston, TX' get Texas-shaped stickers in any color proclaiming your own text, graphics or pictures."
StickyLife.com also offers other high quality custom products such as personalized dog tags and key chains for clubs, cliques and high school sports teams.
StickyLife.com also has a "Save for Later" feature that is perfect for coming back to an incomplete project and putting on the finishing touches. This is a great time saver and works well for designing a gift for someone else. Customers can also use the save for later option to order more, order different sizes or redesign the layout.
Here are just a few ideas created by StickyLife.com customers:

Mike the High School Football star designed his own football shaped sticker for his truck
Kristin designed her own "In Memory of" decal for her car window
"The Pink Hearts" of Lakeland High made their own custom dog tags
These customers enjoyed ordering from StickyLife.com because the company specializes in delivering small quantities of premium quality products.
Check out StickyLife.com on Facebook , Twitter or MySpace to receive website updates, view unique orders placed on the site and see what others are saying about StickyLife.com.
Every item created at StickyLife.com is unique and reflects the user's own personality and creativity. "We're here to make your self-expression products a reality. Remember, if you can think it, you can stick it!"
About StickyLife.com
StickyLife.com is a small start-up company based in Newton Grove, North Carolina. We like to keep it light hearted and fun. Give Nathaniel Fisher a call at 1.800.356.8904 with questions. If you're a blogger, StickyLife.com would like to create a special relationship with you. Call us for more details. If you're a reporter give us a call and we would like to tell you how our new start-up is going in a slowed economy and how we are working around it.
Contact:
Nathaniel Fisher
StickyLife.com
800.356.8904
info(at) stickylife (dot) com
###