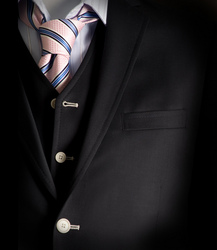 Each customer has the opportunity to create his own unique masterpiece
Ferndale, WA (Vocus) March 12, 2009
Bachrach, the venerable men's fashion merchant founded by Henry Bachrach in 1877, has reinvented itself.
Gone are the endless rows of standard "off the rack" suits. Instead customers enter a boutique-like setting and sit down for a personalized shopping experience. A specially trained suit consultant helps customers choose every detail of their suits. Fabric, buttons, pockets, lapels, lining, stitching - every detail is customizable and can be designed by the customer.
"The old days of the merchant telling the customer what to wear are over," says Steve Lucas, VP of sales for Bachrach. "Now customers can participate fully in the creative process, fire up their imaginations, and ultimately, design the suit of their dreams."
Since a test rollout last August, Bachrach has sold nearly 3,000 custom tailored suits. The results of the early rollout have exceeded the company expectations, with customers raving in particular about their control over the entire design process.
"The younger guys are setting new fashion trends, while the older guys are enjoying the comfort and fit," says Lucas.
A custom tailored suit starts at $495 for super 130 quality fabrics, and goes to $795 for the higher quality super 150 fabrics. Turnaround time is only two weeks.
"A custom tailored suit would cost thousands of dollars if bought from a private tailor," explains Julie J. Lee, Design Director for Bachrach. "Many customers have compared our fabrics with Italian fabrics that cost twice as much, and they find our fabrics more comfortable."
Bachrach suit consultants take up to 30 different measurements. In addition to the more typical measurements of waist, neck and inseam, consultants assess body type, fit, posture and stance. Each consultant has received advanced training in the new custom tailored process, from the fine points of chest and shoulder measurements to the intricacies of fabric, stitching, tailoring and suit construction.
Many of Bachrach's stores already have a waiting list for customers to get measured up. Bachrach suit consultants spend personalized time with the customer, helping them to design a suit that perfectly fits their style and personality. The consultants' calendars fill up quickly, so customers are advised to make an appointment several days in advance.
"Each customer has the opportunity to create his own unique masterpiece," says Lucas. "We're reinventing fashion, one suit at a time."
Bachrach operates over 40 stores in major metropolitan markets (five of which are in Chicago) across 13 states as well as a nationally distributed catalog and e-commerce business, http://www.bachrach.com/mtm.html.
To get an appointment with one of Bachrach's suit consultants, or request a catalog, call 1-800-222-4722.
# # #