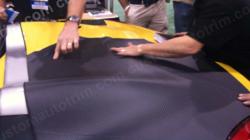 Carbon Fiber Vinyl is an affordable alternative to real carbon fiber
San Diego, CA (PRWEB) January 21, 2013
Custom Auto Trim and Graphics Inc., an industry leader in online automotive accessories retail sales for the past 15 years is proud to carry the entire 3M DiNoc vinyl film lineup, including the incredibly popular ScotchPrint carbon fiber wrap.
Mike Briglia, president and head of the company's online store CustomAutoTrim.Com said "This product will make it possible for the average consumer to wrap most surfaces of their car or truck with a high performance carbon fiber vinyl material that looks like the real thing. It's much more versatile to use, and a lot less expensive."
3M DiNoc Dry Carbon Fiber Vinyl is an affordable alternative to real carbon fiber, while still providing superior quality with authentic carbon fiber look and feel. It gives that sporty aftermarket look to any car or truck without having to spend tons of money. Briglia says that most customers install the wrap on the trunk, hood, spoiler and other parts of the car.
While 3M's Dinoc carbon fiber films give a more dry appearance, 3m Scotchprint 1080 films give a more wet carbon fiber appearance. The quality of both of the wrapping films are still far superior than any other material that you may find that is being imported from other countries.
There are quite a few good customer reviews to be found on Custom Auto Trim's website (http://www.customautotrim.com) saying how happy they are about getting these products, while some others cite the company's very large inventory of high end products as being a major draw. Such auto and truck accessories as body side molding, rear spoilers, car decals, and LED tail lights are among Custom Auto Trim's most popular products.
Founded in October of 1997, Custom Auto Trim has been a premier global supplier of truck and auto accessories, and serves a variety of industries including automotive, recreational vehicle, boats and heavy truck. Some applications of their products can be found at car dealerships including rear spoilers and wings for cars and trucks, body kits, custom pin striping truck decals, and stainless steel side step bars for trucks and SUV.