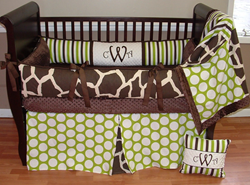 I cannot say enough good about ModPeaPod.com! The quality of their handmade Crib Bedding Sets is outstanding! No other Baby Crib Bedding manufacturer provides the level of workmanship that I found at ModPeaPod.com...
Buffalo, NY (PRWEB) September 18, 2014
After 10 years, the leading Modern Pea Pod manufacturer, ModPeaPod.com, is releasing their first industry trends report. According to ModPeaPod.com, parents shopping for Baby Crib Bedding and Nursery Accessories are currently seeking more unique fabrics and styles of patterns when shopping online for their baby boy or baby girl.
The report indicates that people shopping online for custom baby crib bedding sets, are looking for modern baby crib bedding with unusual styles and patterns. Highlights from this report indicate that more moms and dads are now searching for Custom Baby Crib Bedding Sets, such as: Giraffe, Paisley, Zebra, Tiffany, Polka Dots, Camo (Camouflage), Chevron, Damask, and Minky Dot. These unique styles and patterns of crib bedding and accessories are drawing an increasing number of visitors, searching on the web, and then coming to their website. The data included in the report shows this trend over the past year, but according to the company owner, this trend has been increasing over the past 5 years.
Additionally, these parents are also now searching for more vibrant, as well as traditional colors, for their Baby Crib Bedding and Nursery Accessories, such as: Black & White, Coral, Aqua Blue, Red, Turquoise, Pink, Lavender, and Green. Moreover, the company explains that these website visitors also come seeking custom-embroidered crib rail guards, and safer "breathable" bumpers.
According to Tracy Erickson, owner and operator of http://www.ModPeaPod.com, "We've seen a distinct trend toward the more unusual and unique fabrics and colors for the [Baby Crib] Bedding Sets that we sell. Moms and dads are wanting something different, as this is typically the only time that they will ever be able to decorate their little baby's bedroom without their child's own input into the matter." 
"Patterns like Giraffe, Paisley, Zebra, Tiffany, Damask, and even Camo [camouflage] have become much more popular, per the traffic coming to our website, and per the [corresponding] orders. Interesting color combinations have also become increasingly more popular, such as coral, aqua-blue, turquoise, pink, lavender, green, and even the more gender-neutral combination of black and white."
"We've also seen an increase in the demand for custom-embroidered crib rail guards, as well as the modern breathable bumpers for our crib bedding sets. However, this is not seen in the Organic Search Report we're releasing, but we see this in our sales over the past 12 months. Of course, we continue to receive a lot of orders for custom monograms on the crib bedding, but this has been a stable component in our industry going back over the past decade."
Hundreds of happy customers seeking more unique styles of Baby Crib Bedding Sets have submitted comments and testimonials to http://www.ModPeaPod.com. One such happy customer is Jennifer Steinberg, a mother of three from Russell, PA. Jennifer recently commented about several of her purchases from ModPeaPod.com for her little ones' nursery crib bedding spanning the past several years.
Jennifer Steinberg stated, "I cannot say enough good about ModPeaPod.com! The quality of their handmade Crib Bedding Sets is outstanding! No other Baby Crib Bedding manufacturer provides the level of workmanship that I found at ModPeaPod.com, and I've seen literally dozens of competing products over the years. Their unique fabrics and styles such as their Giraffe, Paisley, Zebra, Camo, Tiffany, and Damask Baby Crib Bedding Sets are perfect for new moms and dads seeking something modern and different for their baby's nursery. I personally could not be any happier with my little ones' custom baby bedding."
About Mod Pea Pod, Inc.
Mod Pea Pod, Inc., operating as http://www.ModPeaPod.com, is an industry leader in the Custom Baby Crib Bedding marketspace. ModPeaPod.com has been manufacturing and selling high-quality handmade and affordable Baby Crib Bedding Sets for Girls and Boys for over 10 years. All custom nursery bedding sets are handmade in the US. The company, also known as Modern Pea Pod, creates modern crib bedding sets using the best materials and shipping from their facility based in Western New York. Tracy Erickson is the owner and operator of ModPeaPod.com.
# # #