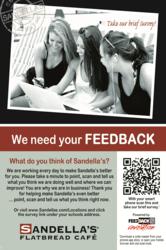 Feedback Revolution QR was an easy choice because it's powerful, easy to use and free.
Boise, ID (PRWEB) February 17, 2012
Sandella's Flatbread Café, headquartered in West Redding, Connecticut is an upscale, fast casual Café serving premium quality, health-conscious and great tasting menu items served on Sandella's proprietary brick oven flatbread. "We are excited about the opportunity to work with Feedback Revolution QR," said Mark Liebich, Director of Licensing. "This platform provides us with real time customer feedback that many restaurants in the fast casual space simply do not have."
Liebich said, "I was impressed with how easy it is to setup and how simple it is for our customers to use. All they need to do is see our POP, scan it and share." He also added, "The choice was easy because it's powerful, easy to use, and free."
"The fast casual restaurant space is a perfect application for Feedback Revolution QR," said Martin Baird, Chief Feedback Officer. He continued, "We are looking forward to working with Sandella's. They have great flatbread, wraps, and paninis in a casual environment."
Feedback Revolution QR has solved the feedback problem for businesses. Comment cards don't work. The only people that use them are "lovers" or "haters". Baird said, "Asking people to go online or call a phone number after they leave the business is a waste of your customers precious time."
"We want to know in real time what our customers are thinking. With the variety of customers we serve, ranging from fast casual to airport concessions and university dining, feedback is critical to our long term success," commented Liebich.
Feedback Revolution QR, was created to provide a free real time customer feedback service to help businesses add value to the customer's experience and improve business practices. Feedback Revolution QR weds the technology of smartphones with extensive customer experience research published by Harvard, making this service a game changer in customer feedback.
Because the service is quick and easy, people are more likely to participate and provide valuable customer feedback. The customer scans a custom QR code with their smartphone. The customer types or uses speech to text to share their comments on the phone and then transmits their feedback by touching a "submit" button.
It takes less than 60 seconds to provide customer feedback. Customers can also participate on their computer or any other device that has an Internet connection, using a URL for the customer survey. Their responses are anonymous, so they can be honest about their customer feedback without guilt.
"We care about our customers. That is why we offer the health-conscious menu items that we do. Feedback Revolution gives our customers one more way to see how much we care," explains Liebich.
About Feedback Revolution QR
Feedback Revolution QR is a FREE service and uses advanced customer feedback technology to give businesses a leg up when it comes to collecting and analyzing customer feedback. By making it fast and easy customers share their feedback directly with the business. This customer relationship management tool helps our clients grow in these tough economic times.
About Sandella's Flatbread Café
Founded in 1994 in West Redding Connecticut, Sandella's Flatbread is an upscale, fast casual Café serving premium quality, health-conscious and great tasting menu items served on Sandellas proprietary brick oven flatbread. Sandella's serves the most popular grilled flatbreads, sandwiches, paninis, quesadillas, & salads – all made using our delicious, brick oven flatbread.
###