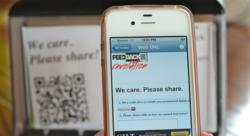 In this ever-changing economic landscape, we believe that the companies that adopt this real time customer feedback tool are making a valuable investment for future growth.
(PRWEB) February 23, 2012
"Real time customer feedback is critical to a business's success. Greece is struggling economically but the local businesses still need to listen to their customers and grow if they want to survive," said Martin Baird, Chief Feedback Officer. South Office LLC created Feedback Revolution QR to give businesses the platform they need to generate free real time customer feedback.
Baird said, "Feedback Revolution QR is a very powerful tool that is simple to use. It will help businesses learn from their customers and grow their business. The current economic hard ships in Greece require a better customer connection than ever."
Stephen Poulitsis, Director of Relationship Development for Kykolos Educational Services, Greece, said, "The financial crisis that Greece has been facing since 2010, exacerbate the recession which is now almost in its 4th year. This in turn, has led to a shrinking client base for small and medium-sized businesses and has made the need for re-engineering their business model a top priority."
Poulitsis continued, "It is our expectation that Feedback Revolution QR can help businesses identify their customer's needs - almost in real-time, and based on the results of the research, modify their strategies to adapt to these needs. An added benefit is the simplicity of the platform and the ability to present the material in the Greek language, effortlessly. In this ever-changing economic landscape, we believe that the companies that adopt this tool are making a valuable investment for future growth."
"This is a great tool for businesses in Greece today. They need every tool they can if they hope to make it through these terrible economic times," commented Poulitsis.
Feedback Revolution QR, was created to provide a free real time customer feedback service to help businesses add value to the customer's experience and improve business practices. Baird said, "Our customer feedback platform is great. It's easy to use and is very valuable to the businesses that use it. Once they try it they love it."
Because the service is quick and easy, customers are more likely to participate and provide valuable customer feedback. They scan a custom QR code with their smartphone. The customer types or uses speech to text to share their comments on the phone and then transmits their feedback by touching a "submit" button.
It takes less than 60 seconds to provide customer feedback. Customers can also participate on their computer or any other device that has an Internet connection, using a URL for the customer survey. Their responses are anonymous, so they can be honest about their customer feedback without guilt.
"Greece is a perfect market to expand into. Customers are going to be more critical than ever because of financial pressures. That means if businesses don't listen they will not survive the terrible economic times in Greece," explains Baird.
About Feedback Revolution QR
Feedback Revolution QR is a FREE service and uses advanced customer feedback technology to give businesses a leg up when it comes to collecting and analyzing customer feedback. By making it fast and easy customers share their feedback directly with the business. This customer relationship management tool helps our clients grow in these tough economic times.
About Kykolos Educational Services
Kyklos Educational Services, Greece, was formed in 2003. The company provides b2b support services - educational and consulting, primarily to small and medium businesses. Support is provided on a wide range of topics related to marketing, management and sales. Kyklos has successfully partnered with local government, the Chamber of Commerce and business associations to implement programs that benefit employee productivity. Roughly half of its business is with the private sector and half from the public sector. http://www.e-kyklos.gr
###