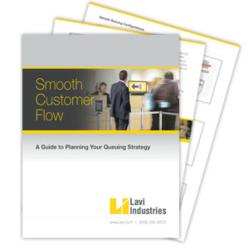 We have created this guide for any organization that relies on queuing to serve its customers.
Valencia, CA (PRWEB) October 11, 2012
From hospitals to retail environments, organizations must contend with the issue of customer flow and queue management. Increasing sales, productivity, and customer satisfaction in high-traffic environments requires a well-planned approach.
To help those in charge of customer flow and queue management, Lavi Industries has released its latest guide, "Smooth Customer Flow: A Guide to Planning Your Queuing Strategy." The 12-page guide, available as a free download on the company's website, helps managers address why waiting lines form and presents strategies for making their queuing systems more productive and enjoyable.
The guide presents considerations for planning a queue, compares single line and multiple line queues, and offers valuable tips for setting up a waiting line system.
Readers of the guide will gain a better understanding of the basic elements of a line and service level requirements that impact their queuing strategies; a comparison of the two most popular waiting line systems; and latest best practices for making the waiting process more pleasant, safe, and efficient.
"We have created this guide for any organization that relies on queuing to serve its customers. The guide is a culmination of many valuable lessons we've learned in our more than 30-year history of helping organizations safely and efficiently guide customers through a wide range of facilities," remarks Perry Kuklin, Director of Marketing and Business Development for Lavi Industries.
To download the guide visit http://lp.lavi.com/queuing-strategy-guide.
About Lavi Industries
Based in Valencia, California, Lavi Industries is the premier provider of public guidance and crowd control solutions in North America. Leveraging its portfolio of world-class brands – Beltrac® stanchions, Directrac® signage systems, Qtrac® electronic queuing systems, and NeXtrac® in-line merchandising systems – Lavi has helped the world's leading companies effectively guide people in, through, and out of their facilities. More information is available at http://www.lavi.com/.