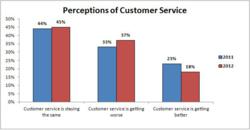 ...the American consumer is even more pessimistic about customer service...
Atlanta, GA (PRWEB) October 10, 2012
Polaris Marketing Research Inc. announced today the results of the second wave of its study of American consumer perceptions of customer service, supported by Research Now for data collection and analysis. Significantly more respondents agreed with the statement "customer service is getting worse" in 2012 than in 2011 (37 percent in 2012 vs. 33 percent in 2011). Significantly fewer respondents believe that "customer service is getting better" and about the same percentage believe "customer service is staying the same."
In 2012, the majority of respondents said they were "not sure" whether they would pay more for better service, increasing significantly from 34 percent in 2011 to 41 percent in 2012. Additionally, the number of respondents definitively saying they would not be willing to pay more for better service decreased significantly (30 percent in 2011 vs. 27 percent in 2012).
However, perceptions of declining customer service have not impacted how loyal consumers perceive themselves to be. In 2011 and in 2012, 72 percent of respondents said their loyalty is best described by the statement, "If a company treats me right, I tend to be loyal to them." Further, online Americans do not believe their levels of loyalty have changed, with most agreeing that the statement "I am as loyal to companies now as I was four years ago" best described them (58 percent in 2011 vs. 62 percent in 2012).
"It is somewhat surprising that, with so many companies still struggling for survival amid a slow economy, the American consumer is even more pessimistic about customer service, even while admitting that they would be loyal if treated well. Treating customers well is a low-cost option for increasing sales and loyalty. We believe that more businesses will get this wake-up call and will start focusing efforts on improving customer service before next year's survey, and hence, satisfaction," said Polaris President Jan Carlson.
Polaris conducted online surveys with a representative sample of 1,000 American consumers during the week of June 20, 2011 and again with 1215 American during the week of August 29, 2012.
About Polaris Marketing Research
Founded by Jan Carlson, Polaris Marketing Research is a full-service firm that provides state-of-the-art online interactive marketing research reporting, interviewing and data collection, quantitative and qualitative research expertise and personalized project management.
Atlanta-based Polaris Marketing Research is affiliated with the Council of American Survey Research Organizations, the American Marketing Association and the American Society for Quality.
About Research Now
Research Now, the leading digital data collection provider, powers market research insights. We enable companies to listen to and interact with the world's consumers and business professionals through online panels, as well as mobile, digital and social media technologies. Our team operates in 24 offices globally and is recognized as the market research industry's leader in client satisfaction. We foster a socially responsible culture by empowering our employees to give back. To find out more or begin a conversation with us, visit http://www.researchnow.com.
###