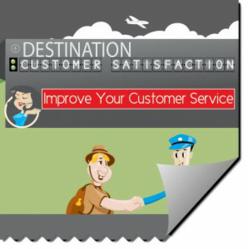 The cost of poor customer service in 16 key economies on our planet is around $338.5 Billion per year.
Barcelona, Spain (PRWEB) August 29, 2012
GetApp, the largest independent marketplace for cloud business apps has released an infographic to educate small business owners about the dangers of poor customer service and ways to improve customer satisfaction with help desk apps.
The infographic is packed with facts and information to help businesses lift their customer service to the next level.
The infographic highlights the following topics:
What improves with good customer service
What decreases with good customer service
Customer service dont´s
The cost of poor customer service
Sought after customer service improvements
The most important customer service apps
"A survey by Genesys revealed that the cost of poor customer service in 16 key economies on our planet is around $338.5 Billion per year" said Christophe Primault, CEO of GetApp. "As a reaction to this astonishing number GetApp has prepared an infographic to educate small business owners about the dangers of poor customer service and ways to improve it"
About GetApp
GetApp is the largest independent online marketplace that helps small to mid-sized businesses and startups discover, evaluate and manage the perfect cloud business apps for their needs. Its mission is to support millions of users in their "best app" research with comprehensive directories, interactive search tools, side by side comparison tables, user reviews and app evaluation resources.
In addition, GetApp serves as a global online marketing channel for thousands of cloud business application developers.
Headquartered in Barcelona, Spain, GetApp operates primarily in North America and the U.K. It is privately owned and backed by Nauta Capital