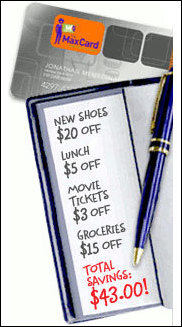 Max Card is unique because it allows customers to receive an ongoing discount every time they shop from a participating Max Card business
Portland, OR (PRWEB) March 16, 2007
The all-new patent-pending Max Card™ celebrates its national kickoff this week in Portland, Oregon. The Max Card offers free advertising to participating businesses and a high-quality customer retention program, while eliminating paper waste and giving back to the community. Max Card is currently in their merchant acquisition phase and plans to introduce the revolutionary Max Card to the public soon.
There's never any cost for a local or national business to sign up for free advertising with the Max Card discount card. "We're in the process of signing up local Portland, Oregon companies and some of the largest retailers in the US to join our Business Promotion Network," says Eric Tavegia, Chief Executive Officer. "Many of these large-scale retailers have expressed tremendous interest in our advertising solutions, since it costs companies nothing to join and they can easily sign up online."
"We have no competition," says Tavegia. "Everyone else offering customer discount card programs charges a hefty fee to join. The Max Card program is 100% free. We urge local and national retailers to contact us immediately to sign up for our free advertising program."
Max Card was developed based on a simple idea- giving customers what they want.
"We developed Max Card because we saw a big gap in what the old-style coupon books and direct mail coupon flyers offer and what customers need today," says Alexander Knyazev, President. "Instead of toting around a hefty coupon book, Max Card customers browse discounts and savings on-line, then just use their card to enjoy discounts and savings at local businesses."
Max Card also found that businesses want more than just a one-time bump in business from a customer discount program. "Max Card is unique because it allows customers to receive an ongoing discount every time they shop from a participating Max Card business," says Knyazev. "The lifetime value of the return customer far outweighs the cost to offer them a discount or savings on each visit. It's a completely flexible and customizable marketing solution for any business. Our business program allows any merchant to promote exclusive offers through The Max Card, whether it's an ongoing discount of 15% Off Purchases Over $50, or Buy 1 Get 1 Free, or merchants can design their own custom offerings and can promote several offers at once." Merchants can direct one offer towards new customer acquisition and another offer might increase customers' average purchase price.
"This is one of the most flexible promotion programs around, providing our merchants with complete control and Max Card members with an abundance of exclusive offers from their favorite retailers," says Tavegia.
Max Card sales support Portland's community, too. "A percentage of each Max Card sale will benefit local and national fundraisers and charities," says Tavegia. "Partnering with worthy causes and giving back to the community was an important part of our business model."
No business worth their salt would break ground in Portland without demonstrating a real concern for the environment. "Portland's a green city, and Max Card is the most eco-friendly discount program around," says Alexander Knyazev, President. "If you've ever been stuck with an expired coupon book or coupon flyer, you know how wasteful old-fashioned customer discount programs can be. With Max Card, there's never any paper waste."
"We'll soon be the nation's largest interactive discount and savings program and the biggest ongoing discount card program," says Tavegia. "Many participating merchants will offer ongoing discounts so repeat cardholders can enjoy discounts with every visit!"
Max Card's free advertising for participating businesses, easy customer access, community involvement and eco-friendly design clearly places them as the discount card frontrunner- with a powerful marketing impact.
About Max Card: Max Card is a discount and savings program based in Portland, Oregon. Max Card provides a unique solution to businesses who want to improve bottom-line results- free advertising and a dedicated customer loyalty program. For more information about how you can get free advertising and more new-and return- customers, visit http://www.newmaxcard.com or call 1-888-MY-MAXCARD. Max Card. Smart. Easy. Fun. Savings!
###