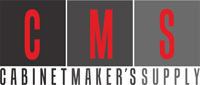 Saving money has never been easier
Los Angeles, CA (PRWEB) September 2, 2009
One way loyal customers of Cabinet Makers Supply, can save money is to join the 'CMS Customer Loyalty Program' by simply clicking on the 'thank-you' box on the home page of the company's website or checking out when ordering a product. Cabinet Maker's Supply is one of the largest online suppliers of cabinet making and woodworking supplies, and boasts a 100% approval rating from their customers.
According to David Lyttle, Marketing Director for Cabinet Makers Supply, the customer loyalty program allows customers to earn a 5% discount with each order towards a future order. "We want to keep our customers happy, and especially in these tough economic times everyone likes to save money and trim expenses. We are delighted that the majority of our customers are repeat customers, and our customer loyalty program is a great way to thank them, for their business" said Lyttle.
Do-it-yourself woodworkers rely on Cabinet Makers Supply for all their woodworking needs as CMS stocks over 5,000 products in a substantial array of product categories, everything they could possibly need - but the wood. Orders placed Monday through Friday 8 a.m. to 4 p.m. Pacific Time are shipped the same day and customers appreciate one of the most honest and liberal return policies on the web. Products may be returned, no questions asked, without any restocking charges within 90 days of purchase date.
"Saving money has never been easier," noted Lyttle "a click of a mouse is all it takes!" Additional discounts are available in the form of reduced shipping charges for customers who connect via the company's Facebook page or Twitter account.
For more information, and to view the complete line of products, visit Cabinet Makers Supply. Facebook fans and Twitter followers not only enjoy discounted shipping charges, but are the first to find about other special offers and woodworking events and contests.
###