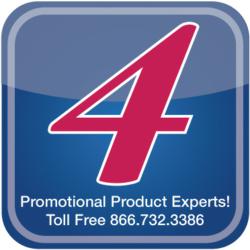 (PRWEB) February 14, 2012
It's one thing to get customers in the door but it's an entirely different game to get them to come back time and time again. Repeat customers are important business because they help sell brands by providing support for products or services that are worth returning for. The promotional products professional at 4AllPromos knows it is important to maintain strong working relationships with repeat customers; that is why they provide discounts, corporate gifts and many other buying incentives to regular customers. Below are 4 tips the folks at 4AllPromos find important when trying to achieve repeat customers.
4AllPromos finds great pride in the fact that they have many repeat customers returning on a monthly, semi-annual or annual basis to order quality promotional products.
Use these 4 tips to help increase business and show customers how important their business and shopping experience is.
1. Be consistent- Provide quality products, services and experiences to each and every customer. If for some reason a product or experience is not up to the company or customer's standards, then make it up to the customer. Assure the customer that they are valued and their business is appreciated. Prove that your products and business are reliable and infallible.
2. Stay in touch- Never, ever harass your customers. Keep in touch on maybe a monthly, semi-annual or annual basis. Check in with customers around the time they ordered their last product to see if they want to place the same order or perhaps a new one. Remind them that you are here to help them gets the items they need for their daily or professional needs. Allow customers to choose when they are contacted either through the mail or e-mail or maybe on a mobile device.
3. Offer incentives- Sales, bonus products, gifts and other buying incentives help usher customers through the door again and again. The more the custom comes back perhaps the more or higher quality products you want to offer them. Send out holiday or birthday gifts to show appreciation.
4. Keep up with trends- Trends, products and customer needs are constantly changing in the world of business and commerce. Make sure your company and staff members are well equipped and trained on the evolving business needs of your customers. Update your inventory and services to help customers be on the cutting edge.
4AllPromos is constantly updating the inventory of promotional and custom imprinted products. They stock everything from pens and sticky notes to Wacky Products or products that can be printed with a QR code. 4AllPromos is constantly trying to stay on the cutting edge of the industry by providing professionals with smart products that will help improve business, promote a cause, special event or support a school, non-profit or industry. Call 4AllPromos toll-free at 1-877-786-7189 or visit 4allpromos.com to find the perfect product for special customers.
###