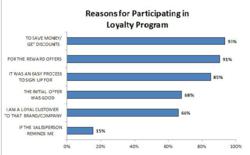 Americans are joining loyalty card programs for the savings and not necessarily for the brand.
Atlanta, GA (PRWEB) August 28, 2012
Polaris Marketing Research Inc. announced today the findings from their latest survey of online Americans, supported by Research Now for data collection and analysis. Americans are participating in loyalty card programs more now than ever and the reason behind it is not surprising.
All 1,222 respondents were asked how many customer loyalty programs they participate in with five or more loyalty programs being the majority. The highest rated reason why Americans join is "to save money/get discounts" (93 percent) – not much of a surprise.
The second highest rated reason was "For the reward offers" (91percent) confirming the demand for customers to receive some type of offer first (whether it's discounts or free stuff) before they become "loyal" to that specific brand or company. "I am a loyal customer to that brand/company" was the second to last reason for participating in a loyalty program (66 percent).
Further when respondents were asked if having a specific brand/company loyalty card influences their decision to purchase a product or service, more than half responded that it "influences me a little" (53 percent). Men were significantly less likely to be influenced by having a specific brand/company loyalty card than women (57 percent vs. 50 percent).
"Considering that many are still struggling in this economy the results are not surprising. Americans are joining loyalty card programs for the savings and not necessarily for the brand. If brands want to compete for customer loyalty we suggest implementing some type of savings or discount program," said Polaris President Jan Carlson.
About Polaris Marketing Research
Founded by Jan Carlson, Polaris Marketing Research is a full-service firm that provides state-of-the-art online interactive marketing research reporting, interviewing and data collection, quantitative and qualitative research expertise and personalized project management.
Atlanta-based Polaris Marketing Research is affiliated with the Council of American Survey Research Organizations, the American Marketing Association and the American Society for Quality.
About Research Now
Research Now, the leading digital data collection provider, powers market research insights. We enable companies to listen to and interact with the world's consumers and business professionals through online panels, as well as mobile, digital and social media technologies. Our team operates in 24 offices globally and is recognized as the market research industry's leader in client satisfaction. We foster a socially responsible culture by empowering our employees to give back. To find out more or begin a conversation with us, visit http://www.researchnow.com.
###