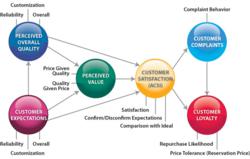 86% of customers have admitted that they will pay more for an improved customer experience
Atlanta, GA (PRWEB) December 05, 2012
In today's fast paced world, attracting and maintaining consumers is more of a challenge than ever. Not only are local companies in competition with one another, but thanks to the boom in e-commerce, businesses must hold their own against a truly global marketplace. How can businesses stand apart from the crowd? The key to attracting new business and maintaining current client base is quality customer service.
Although many company leaders fail to realize it, the fact stands that poor quality service is an epidemic that is sweeping the nation. This year a mere 37% of brands were given "good" or "excellent" customer experience scores, whereas a staggering 64% received "OK", "poor", or "very poor" (Forrester's Customer Experience Index, 2012). This is shocking, especially when considering an estimated $83 billion dollars are lost from US enterprises every year due to defections and abandon purchases as a result of poor customer experiences, according to the Parature Customer Service Blog. In the presence of a suffering economy, no business can afford to lose customers due to less-than-adequate service.
The good news is that because Americans are generally so disappointed in the customer service they receive, businesses have the opportunity to capitalize on unsatisfied customers. The 2012 American Express Global Customer Service Barometer found that nine in ten of Americans surveyed (93%) say that companies fail to exceed their service expectations. Furthermore, one out of two respondents (55%) walked away from an intended purchase in the past year because of a poor customer service experience. By rising above the competition and giving customers what they expect can have a dramatic impact on customer retention and customer acquisition rates. AccurateLeads has found that quality customer service is the key to bringing in new clients, as well as retaining old ones.
By making the effort to create service improvement, companies could significantly boost sales. In fact, a whopping 86% of customers have admitted that they will pay more for an improved customer experience (RightNow Customer Experience Impact Report 2011). Here are a few tips and ideas to get you started on improving customer service.
(1) Communication – Treat people with courtesy and respect. First impressions can go a long way whether by phone, email, or a face-to-face. More importantly, respond to customers in a timely manner and interact often.
(2) Listen – Hearing what the customer needs with genuine interest can do wonders in building relationships. Create an emotional connection .Customers want to be well understood and feel special in some way.
(3) Knowledge- Convey in-depth knowledge of products and services to gain customer trust and confidence.
(3) Deliver on promises- Failing to do so can cause a company to lose both credibility and customers. Moreover, be confident in only making promises that can be kept. Customers want to deal with companies that keep promises.
Businesses are beginning to realize that success lies in the quality and consistency of their customer relationships. Accurateleads is committed to providing the highest level of service and expertise when assisting clients with their database requirements. Customer service is essential to the way that business is perceived, and providing it isn't difficult.
About AccurateLeads
AccurateLeads (http://www.accurateleads.com/) is a leading provider of direct marketing services that help businesses grow their client basis. Founded in 1984, AccurateLeads has developed a unique process that helps businesses create an individualized multichannel marketing plan to stimulate growth and out brand competition.
For additional information feel free to call our toll free number at any time: (800) 685-4787.