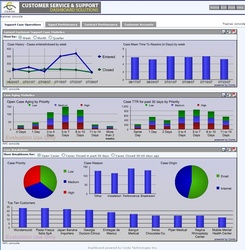 Thousands of salesforce.com customers are using the AppExchange to extend the benefits on on-demand applications throughout their business
SAN FRANCISCO (PRWEB) September 17, 2007
Corda's Customer Service and Support Dashboard was created with the guidance of industry experts who have built successful CSS operations at Fortune 500 companies. Pulling data directly from Salesforce, the dashboard provides enhanced performance management, tracking vital Key Performance Indicators (KPIs) for customer service and support organizations.
Corda's Customer Service & Support Dashboard allows users to:
-- Manage cases with powerful graphics
-- Track agent performance
-- Proactively manage contracts
-- See customer accounts at a glance
"Customer Service and Support is a process intensive business," said John Purvis, CEO and president of Corda. "World-class performance comes to those who watch the details of mean-time-to-resolution, backlog, self-service, and related measures. Corda's solution presents all of the important customer service and support KPIs and displays them in a way that highlights where the issues are."
Salesforce.com users can capitalize on the power of Customer Service and Support Dashboard straight from AppExchange or Corda's Professional Services can work with the user to customize the dashboard application.
"Thousands of salesforce.com customers are using the AppExchange to extend the benefits on on-demand applications throughout their business," said George Hu, Chief Marketing Officer, salesforce.com. "Corda's AppExchange certified Customer Service and Support Dashboard solution will enhance the performance of a very important segment of salesforce.com customers - the customer service and support organization."
More information on Corda's Customer Service and Support Dashboard Solution is available either at http://www.salesforce.com/appexchange or at http://www.corda.com.
Force.com Platform and the AppExchange
Force.com is the on-demand platform for the next generation of business applications. Force.com reinvents traditional customization and integration and enables the creation of a whole new generation of on-demand applications that go beyond client/server computing. Force.com allows applications to be easily shared, exchanged and installed with a few simple clicks via salesforce.com's AppExchange marketplace, enabling all the innovation that Force.com unleashes to benefit the entire on-demand community.
The AppExchange economy continues to expand as thousands of salesforce.com customers have installed thousands of on-demand business applications available on the AppExchange, found at http://www.salesforce.com/appexchange.
About Corda Technologies
Corda Technologies is the leading provider of enterprise solutions for creating dashboards and interactive data visualization solutions that enhance performance management and smart decision-making. For a decade, Corda has led the evolution of data visualization from static charts and graphs to interactive, intuitive strategic dashboards. Its award-winning solutions include developer tools, enterprise server products and professional services that improve business performance and enable customers worldwide to enhance bottom-line results. For more information regarding Corda, its customers, awards and partners, please visit http://www.corda.com or call (800) 968-3240.
Bookmarks this story on del.icio.us: http://del.icio.us/
Submit this story to digg: http://digg.com/login
Technorati tags: http://www.technorati.com/tag/Corda
http://www.technorati.com/tag/CSS
http://www.technorati.com/tag/design
http://www.technorati.com/tag/dashboard