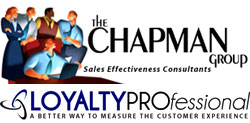 We are in a very dynamic business era where optimizing and measuring the customer experience must be a business priority.
Columbia, MD (PRWEB) April 29, 2011
President and CEO of The Chapman Group, Dennis Chapman Sr., an active member of the Strategic Account Management Association (SAMA), SAMA's Board of Directors and a long time participant and thought leader at SAMA's conferences, will be at SAMA's 47th Annual Conference being held in Orlando, Florida, May 15-18, 2011. This year's conference is entitled "Mastering the How – Executing on SAM and Achieving Superior Business Results" and will bring together the best and brightest minds in the world of strategic account management.
This year Dennis is fortunate enough to host 2 workshops: a panel discussion on the role of the executive sponsor in account management, and a SAM Technology Lab on LoyaltyProfessional, which introduces attendees to The Chapman Group's methodology for measuring and optimizing the customer experience.
"I approach the SAMA 2011 Annual Conference with great excitement," says Dennis. "We are in a very dynamic business era where optimizing and measuring the customer experience must be a business priority. I am sure that we will experience innovative ideas and practices during the conference that will enable strategic suppliers and strategic accounts to move forward in-step through this era of business evolution."
For more information on the conference, visit SAMA's website at http://www.StrategicAccounts.org.
Below are descriptions of the workshops Dennis Chapman will be hosting.
SAMs & Senior Executives: a Field-Level View of Executive Sponsorship
Session Description
The company's executive sponsor plays a vital role on the account team in strengthening the C-level customer relationship and improving access, speed and account penetration. Join this open panel discussion with experienced strategic/global account managers and executive sponsors to better understand how to leverage the powerful resource of an executive sponsor.
Learn how to:

Be an effective SAM in driving and leading executive involvement
Define the role and accountability of the executive sponsor on the account team
Strategize executive-to-executive relationships within strategic accounts
Incorporate and leverage executive sponsor activity for major initiatives
Technology Lab: LoyaltyProfessional
Session Description
Companies cannot afford to lose a strategic, long-term customer. In fact, in today's economic climate, companies cannot afford to lose any customer. When serviced correctly, customers become more loyal and generate increased profits every year they stay with a strategic supplier.
This session engages with The Chapman Group's LoyaltyProfessional experts, who manage companies "Voice of the Customer" (VOC) initiatives and will provide your organization access to proven methodologies for measuring the customer experience.
Learn:

Who is The Chapman Group and what is LoyaltyProfesssional – Voice of Customer (VOC) Services
Best practices for measuring the VOC feedback
How to use VOC data as part of strategic account and business planning to achieve superior business results (i.e. Client Retention and Revenue Growth)
How to best utilize The Chapman Group to further develop and grow your SAM Program
Case Study - How other organizations are using customer feedback to predict the future, revenue, account retention, new products and services and profitability
About The Chapman Group
The Chapman Group, founded in 1988, is a sales consulting firm that creates world class account management programs. We assist clients of all sizes, across a broad spectrum of industries, in increasing their revenue and retention through the implementation of innovative processes, methodologies, best practices, skills and tools. The Chapman Group utilizes a metric-based approach to integrate the art with the science of account management, enabling our clients to grow by becoming more efficient, effective and profitable. Clients, National and Global, Fortune 1000 and Mid-tier, have all found considerable value in continuing their relationship with us, long after initial goals have been accomplished. Clients often request The Chapman Group to monitor performance while providing support in the form of strategic planning, coaching and skills training.
http://www.chapmanhq.com / http://www.loyaltypro.com
About the Strategic Account Management Association
Founded in 1964 and with over 2,000 current members, the Strategic Account Management Association (SAMA) attracts the strategic customer management profession's most influential decision-makers. Over the past 39 years, the association has earned the reputation of being the SAM profession's knowledge leader, providing members with the high quality resources, training and networking opportunities needed to succeed.
The Strategic Account Management Association is a non-profit organization devoted to developing and promoting the concept of customer-supplier collaboration. SAMA is dedicated to the professional development of the individuals involved in the process of managing national, global and strategic customer relationships, and to enabling firms to create greater customer value and achieve competitive advantage accordingly.
# # #