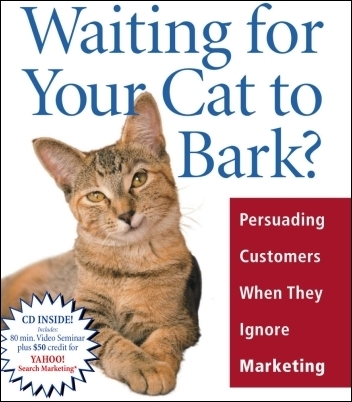 Waiting for Your Cat to Bark?
Nashville, TN (PRWEB) June 29, 2006
"Waiting for Your Cat to Bark?" is a new book by New York Times and Wall Street Journal best-selling authors Bryan and Jeff Eisenberg, founders of Future Now, Inc. and the inventors of Persuasion Architecture. The book spends the bulk of its pages lending insight into how to build "persuasive entities" by paying primary attention to customer behavior. One of the questions they use to define their own clients' customers could be asked by most businesses. Are your customers relational or transactional?
Customer Behavior: Relational vs. Transactional
Transactional Shoppers
Focused only on today's transaction, giving little thought to the possibility of future purchases
Only fear is of paying more than they have to pay; looking for price and value
Enjoy the process of comparing and negotiating and will likely shop at several stores before making their decision to purchase
Do their own research so they won't need the help of an expert; Consumer Reports are published primarily for the transactional shopper
Don't consider their time spent shopping to be part of the purchase price because they enjoy the process
Anxious to share the "good deal" they've found; transactional shoppers are excellent sources of word-of-mouth advertising.
Relational Shoppers
Consider today's transaction to be one in a long series of many future purchases; looking less for a product than for a store in which to buy it
Only fear is of making a poor choice; relational shoppers will purchase as soon as they have confidence
Don't enjoy the process of shopping and negotiating
Looking principally for an expert they can trust
Principals of Future Now, Inc., Bryan and Jeffrey Eisenberg help companies maximize results by incorporating expert persuasion techniques into website design as well as email marketing, development, and implementation. Co-authors of the New York Times and Wall Street Journal bestseller "Call to Action: Secret Formulas to Improve Online Results," the Eisenbergs developed the patent-pending Persuasion Architecture marketing framework at the heart of "Waiting for Your Cat to Bark?"
Contact:
Michael Drew
512-858-0040
# # #