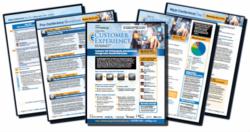 "The digital age has changed the way customers act and think and the greatest opportunity lies with organizations that can understand this new customer's needs, behaviors and expectations and deliver on them."
New York, NY (PRWEB) February 21, 2013
Customer Management IQ, a division of IQPC announces its 5th Customer Experience Summit, taking place May 20 - 23, 2013 in New Orleans, Louisiana.
"The digital age has changed the way customers act and think and the greatest opportunity lies with organizations that can understand this new customer's needs, behaviors and expectations and deliver on them," says CMIQ's Zandile Mnguni.
Companies in the US invest billions of dollars a year on customer service activities; yet poor customer experience costs about $80 billion a year in lost sales, with more than 60% of those unhappy customers opting for a competitor.
Traditionally, brands have relied on marketing strategies revolving around pushing products through expensive advertising campaigns, rich print and online collaterals to gain market share. Now, pre- and post-purchase delivery of service and information to customers is redefining the way brands are perceived by their audiences. The Customer Experience Summit is the only event that will provide key insights and strategies for designing, implementing and managing the evolving multichannel customer experience in a dynamic environment.
Featured Speakers include*:
Erik Eaker, Director, Group Segment Experience Practice, Humana Inc.
William J Greenwald, Director, Performance Coaching and Advisory Practice, Humana Inc.
Rich Brecht, Director of Customer Experience, MAG Retail Group
Patricia Ballantyne, VP Customer Experience, Knowledge First Financial
Dann Allen, Head of Experience Design & Improvement, AAA
Joe Wheeler, Executive Director, The Service Profit Chain Institute
Kelly Harper, Director of Customer Experience, BMO Financial Group
Kimberly Sutherland, Director of Usability / Experience, AT&T
Craig Lee, Senior Manager Performance Development (Customer Experience), Emirates Airlines
*The full list of speakers is available at http://www.customerexperiencesummit.com
The Customer Experience Summit delivers the most practical information answering your most pressing issues:
Designing a seamless multi-channel customer experience strategy
Monitoring the performance of your digital customer touch points
Transforming EMC's total customer experience program through big data
Achieving the personalized approach to consumer interaction
The Customer Experience Summit was designed to deliver the tools and templates that ensure each session remains focused on the specifics of HOW you will add value to your organization upon your return to the office. Don't miss out on the opportunity to learn from industry thought-leaders, authors, practitioners and experts on how to develop a customer experience strategy that links to your corporate goals.
For more information on the Customer Experience Summit, please visit http://www.customerexperiencesummit.com or contact Stephanie Gonzalez at Stephanie.Gonzalez(at)iqpc(dot)com
About IQPC
IQPC (http://www.iqpc.com) provides business executives with tailored practical conferences, large-scale events, topical seminars and in-house training programs. Producing over 1,500 events annually around the world, IQPC continues to grow and has offices in cities across six continents including: Berlin, Dubai, London, New York, Sao Paulo, Singapore, Sydney, and Toronto.
About CMIQ
Customer Management IQ (http://www.customermanagementiq.com) leverages data, intelligence and networking from our global community of call center professionals to keep you ahead of the curve…and your competition.
Contact:
Stephanie Gonzalez, IQPC
P: 212-885-2685
E: Stephanie.Gonzalez(at)iqpc(dot)com