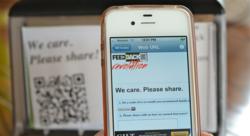 ...if salons don't start today collecting customer feedback and improving they could be left out of the next growth phase
(PRWEB) March 26, 2012
With the anemic growth that the salon industry has had over the last 5 years they need new tools to survive and grow. Feedback Revolution QR has just been made available to salons so they can collect real time customer feedback. Martin Baird, chief feedback officer said, "Between the terrible economy and the highly competitive business category, hair and nail salons need to have an amazing connection with their customers. Feedback Revolution QR provides them the real time customer feedback platform they need."
There are signs that the economy is improving and that could be good for salons. "After all, when people are confident they won't lose their job and will also see other people getting jobs, then they are more likely to spend on things like health and beauty. But if salons don't start today collecting customer feedback and improving they could be left out of the next growth phase," Baird shared.
"Customers will go where they get the experience that they want. The problem is most customers say they are "satisfied" when they leave but that may not be what they are telling people on Twitter, Yelp and Facebook. In the old days people told 7-10 people what they thought now they can tell thousands of people," commented Baird.
Feedback Revolution QR is a new free customer feedback platform that uses simple smartphone technology and research out of Harvard to help salons measure, manager and improve their customer's experience.
"We are excited to bring this to salons. It could be the salon owner or even the person renting a booth in a salon. The key is knowing what your customers liked and didn't like. With so many choices having a strong connection is critical," said Baird.
Customer satisfaction surveys are a waste of time and money. Very few customers fill them out and then the salon has the challenge of tabulating the data so it can be used for improvement. "Feedback Revolution QR takes customer satisfaction surveys to a new level. We make it fast and easy for the customer and for the salon owner or manger," continued Baird.
If salons are going to be poised for an economic upturn they need to start collecting meaningful real time customer feedback now.
Feedback Revolution QR is a free service and uses advanced customer feedback technology to give businesses a leg up when it comes to collecting and analyzing customer feedback. By making it fast and easy customers share their feedback directly with the business. This customer relationship management platform helps clients grow in these tough economic times. http://www.feedbackrevolutionQR.com