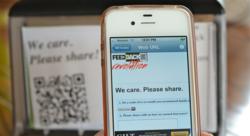 The sharks need the forward-looking indicator of future success that Feeback Revolution QR provides.
(PRWEB) April 02, 2012
In a recent episode of "Shark Tank," Mark Cuban told one of the entrepreneurs that he needed $170,000, not the $40,000 he was seeking. Cuban and the rest of the sharks know what they're taking about. But Martin Baird, chief feedback officer of Feedback Revolution QR, announces he knows something they don't: the sharks are missing a key metric for future success.
"Cuban will ask them how many units they have sold or Kevin O'Leary will ask what the retail price is and Robert Herjavec will ask what the market size is. These are all basic questions that the entrepreneur should know, but the sharks need a forward-looking indicator of future success," shares Baird.
"If the entrepreneur doesn't know the basics, why would any of the big money people invest in the product or service? If I was them I'd want to know their Feedback Revolution score over the last six months. The research behind it was done by Harvard and can be amazingly accurate at predicting future results. After all I'd want to know if customers are willing to risk their reputation and tell people how great the product or service is before I'd invest in it. Feedback Revolution QR gives businesses this information through its real time customer feedback platform," Baird said.
"The sharks have been amazingly successful but how can having this information do anything but help when make decisions?"
"Robert Herjavec offered a person with a nose filter $4 million on the spot because he had an order for his product. That is a future-looking indicator of results. Very few businesses have purchase orders for millions of units when they walk on the show but they can all easily have their Feedback Revolution QR score. It's free platform for collecting customer feedback so their really are no excuses," Baird said.
About Feedback Revolution QR
Feedback Revolution QR is a free service and uses advanced customer feedback technology to give businesses a leg up when it comes to collecting and analyzing customer feedback. By making it fast and easy customers share their feedback directly with the business. This customer relationship management platform helps clients grow in these tough economic times. http://www.feedbackrevolutionQR.com