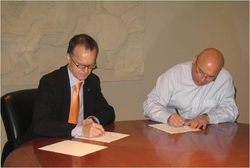 With SYMA's network of subsidiaries and partners spanning more than 60 countries, the new alliance creates an invaluable resource to deliver global programs to global clients, especially those based in the US and Europe.
Detroit, MI (PRWEB) April 1, 2010
EWI Worldwide, a global, live communications company, announced a strategic alliance with SYMA Holding AG, a Swiss-based provider for exhibitions, events and environments worldwide. The partnership will extend the reach of EWI Worldwide's global operations, opening doors for clients' live communications programs to important emerging markets in the Middle East, Africa, Australia, South America, Eastern Europe, and Asia. Additionally, the relationship gives SYMA a wider base of strategic, design and program management capabilities.
"With SYMA's network of subsidiaries and partners spanning more than 60 countries, the new alliance creates an invaluable resource to deliver global programs to global clients, especially those based in the US and Europe," said Dominic Silvio, founder and chief executive officer of EWI Worldwide. "Drawing on these capabilities, EWI Worldwide will be able to handle client programs in a cohesive, culture-conscious, and economic way anywhere from Tokyo, to Moscow, to Rio de Janeiro."
The move comes at the time when EWI Worldwide is rapidly gaining market share in international programs. Its European division, EWI Worldwide GmbH, now has facilities in Hamburg and Dusseldorf, Germany, making the company well equipped to handle complex programs throughout EMEA. The company's Asian subsidiary, Exhibit Works of Shanghai, Ltd., has spent the last several years developing the international side of its traditional exhibition business throughout Asia Pacific for clients such as Dana, Abbott Nutrition and Novartis. In addition, EWI Worldwide has been gaining ground in the pavilion business, carrying out five pavilion projects at the upcoming World EXPO, which opens in Shanghai this May, as well as a 45,000 square foot Coca-Cola pavilion for the 2008 Olympic Games in Beijing. The company's position in the Asian market will be further strengthened with the resources of SYMA's five offices in China, as well as a facility in New Delhi.
"One team, one goal, one plan. This vision is already turning into successful results," said Werner Stucki, chief executive officer of SYMA Holding AG. "Before we went into this alliance, both companies considered each other's culture and ethics of doing business because if that does not fit, the cooperation will not develop. We are both family-owned, private and independent companies. Our biggest assets are our employees and our commitment to following long-term goals."
Synergies between EWI and SYMA run on multiple levels. Both companies are committed to a "value-added" business model, which contributes to seamless execution of client programs. The clients will also enjoy considerable savings thanks to SYMA's proprietary modular system, a cost-efficient and environmentally friendly tool designed for companies that engage multiple geographical markets.
Additionally, the alliance will benefit clients with retail and event programs. In response to evolving demand, EWI Worldwide developed Interior Works and Studio Creative divisions, and SYMA mirrors these capabilities with designated resources for retail design and construction, museums, environments and events. With hundreds of local experts on the ground, each concept will be translated into a market appropriate solution, connecting brands with their customers, and bringing stories to life.
"The stage is set," adds Silvio. "Our clients are already gaining global value from what I consider more than just a business alliance, but a friendship with mutual respect and true collaboration. Together, we bring something very unique to the industry."
About EWI Worldwide
EWI Worldwide is a global, live communications company that creates community between brands and customers. EWI Worldwide consists of three specialized service groups, each offering its own unique capabilities and resources: Exhibit Works, Interior Works and Studio Creative. EWI Worldwide has offices in Atlanta, Chicago, Detroit, Dusseldorf, Hamburg, Los Angeles, Milwaukee, Shanghai and Winston-Salem and resource partners worldwide.
About SYMA Holding AG
In over 60 countries SYMA maintains a strong, global network with subsidiaries, partners and licensed agents. SYMA group employs over 900 employees in Europe and Asia alone. SYMA Group sees itself simultaneously as a system provider with technically perfect, high quality constructions, and as a full service company for complete exhibit solutions, all from one source.
###