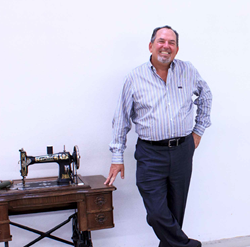 By modernizing our new building's facilities we were able to obtain a more efficient energy consumption per a square foot
Garden Grove, CA (PRWEB) November 20, 2015
Contract sewing company CustomFab USA moved warehouses this summer, nearly doubling its square-footage while using state-of-the art-technology to keep its energy usage about the same.
"By modernizing our new building's facilities we were able to obtain a more efficient energy consumption per a square foot" said Brian Alhanati, CustomFab USA General Manager.
The move, which took place this past August, brought the family owned company from its previous 47,000 sq ft building into a 76,000 sq ft building that was occupied by Mitsubishi. In just 4 days, CustomFab USA transitioned 240 people, 3122 types of raw materials and over 350 machines along with high-tech wire-guided forklifts into its new home.
Click here to see a cool video time-lapse of the process.
"It's a much more intelligent building than our last," said Brian. "We're a traditional industrial sewing company, but we also embrace the benefits new technology has to offer."
By updating the old building, CustomFab USA was able to meet Title 24 requirements to be considered energy efficient. In order to do so, the company retrofitted its new warehouse with light harvesting smart sensors that use daylight to offset electrical usage, motion sensor lighting, and a HBAC computer controlled air system. Later this year it plans to install UV coated windows to regulate temperatures and further lower its energy consumption.
CustomFab USA was founded in 1990 by Don Alhanati with one ultra sonic welder and sewing machine. Today it has grown to become one of the leading sewing product manufactures in America, with over 100,000 square feet of space in California and Arizona.