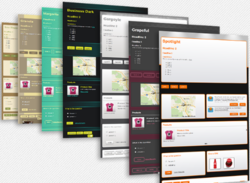 25 New layout themes that make custom Facebook Page designs easy
(PRWEB) August 02, 2012
ShortStack, a self-service custom Facebook app platform, has added 25 new themes for Facebook Page layouts to its existing list of features. ShortStack has always offered free Facebook Page layouts to their users to help them build custom Facebook Page apps that compliment their brand and business.
"Not all businesses have the time or the design team to build custom Facebook Page apps from the bottom up," Jim Belosic, CEO of ShortStack said. "Our overall goal with ShortStack is to make the lives of designers and businesses easier, and free Facebook Page layouts is just one more way we are meeting that goal."
After adding the 25 new themes, ShortStack now has more than 70 themes and 65 templates. ShortStack's new Facebook Page layouts include a variety of choices that provide clean, professional themes for businesses, and specific themes that were designed with certain industries in mind.
ShortStack's template options range from simple two- to four-column layouts and sub tab templates to promotion, featured product, newsletter, restaurant reservations, and YouTube templates. Add one of ShortStack's colorful themes to an existing template and a business can create a professional looking custom Facebook Page app in less than an hour.
ShortStack plans to continue to increase the design features offered through the platform and add new themes and templates on a regular basis.
About ShortStack
ShortStack is a self-service web application design tool that allows individuals and businesses to create custom Facebook apps for their Facebook Pages. The dynamic platform contains more than 30 widgets and applications where users can integrate fan-gates, contests, sweepstakes, RSS feeds, Twitter, YouTube, and MailChimp newsletter signups that maximize their social media presence and potential. Custom Facebook apps designed using ShortStack are viewable via a mobile device or PC. To learn more about ShortStack visit http://www.shortstack.com.