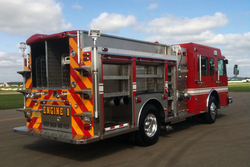 Osceola, WI (PRWEB) September 25, 2010
CustomFIRE Apparatus, Inc., a Wisconsin-based manufacturer of highly customized fire apparatus, has appointed RedStorm Fire & Rescue Apparatus, Inc. as their exclusive dealer in the mid-Atlantic region. RedStorm represents CustomFIRE with fire departments, municipalities and industrial customers in Virginia, Maryland, Pennsylvania, Delaware and Washington, DC.
Jim Kirvida, president and owner of CustomFIRE said, "I am pleased to announce that CustomFIRE has taken a major step to expand our service and distribution on the East Coast with the appointment of RedStorm Fire & Rescue Apparatus, Inc. We consider it critical to select partners that provide truly customer-oriented service, and knowledgeable, features-oriented sales support to fire departments. RedStorm is led by Jim Featherstone, a lifelong firefighter, retired fire chief and former vice president of sales for the largest fire apparatus dealership in the U.S. He and his team have a proven track record of exceptional customer support and of delivering highly customized fire apparatus that meet the needs of fire departments throughout the territory."
"CustomFIRE just may be the best kept secret in fire apparatus. They are an exceptionally high quality manufacturer, with a unique build process and an ability to customize almost any aspect of a fire truck. We're extremely pleased to be associated with the CustomFIRE team. Their philosophy and ours are a perfect complement. We both believe in exceptional quality, customization and responsiveness to our customers," said Jim Featherstone, RedStorm president.
About CustomFIRE
CustomFIRE Apparatus, Inc. is a leader in concealed, all-bolted body construction. They offer a broad line of highly customized, custom and commercial pumpers, pumper-tankers, rescue-pumpers, rescues, and command vehicles. The Full Response® crew cab, MetroFlex™ cab extension, OutReach™ ladder rack and SmartSpace™ packaging solutions are unique to CustomFIRE, as are lifetime, transferrable warranties on their 12-gauge stainless steel bodies. CustomFIRE was founded in the late 1970s by Jim Kirvida, who continues to lead the business with his son, Wayde Kirvida. The company is headquartered in Osceola, Wisconsin.
For more information, visit CustomFIRE at CustomFIRE Apparatus and RedStorm at RedStorm Fire & Rescue Apparatus.
# # #