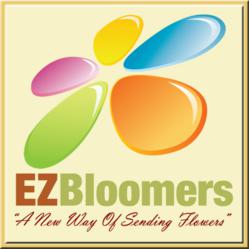 custom floral arrangements without the high-priced service fees
Indialantic, Florida (PRWEB) November 22, 2011
Online floral arrangement company EZBloomers.com has launched a contest driven by Facebook to win an iPad 2 valued at $499. The contest is going on now and will announce the winner via Facebook at the end of February 2012.
Facebook fans will see the landing page but no registration is required. The online floral arrangement website has simply asked fans to purchase a floral arrangement from EZBloomers.com between November and February to instantly be entered to win the grand prize. EZBloomers.com hopes that Facebook users will share the information by clicking on the ad to post on their wall to alert their friends as well.
Besides the current promotion to win the iPad 2, every month EZBloomers.com provides an additional sweepstakes to win a floral arrangement (valued at $50). Only current Facebook fans can enter and are eligible to win the contest. To enter the contest all applicants have to "like" EZBloomers on Facebook and complete the form after they click on the Sweepstakes tab underneath their profile image.
EZBloomers.com hopes that both contests will help increase the site's engagement as well as build up 'buzz' on their social media sites to highlight their unique way of sending flowers. "We have a big challenge by going up against the major internet floral retailers in our space. We came to the conclusion that florists must no longer deal with minuscule profits due to larger corporations dominating this industry and not giving local florists much beyond the cost of their products," says Kimba Vasquez, President of EZBloomers.com. "We understand that the way we do business is revolutionary in our space and it's sometimes difficult to get the word out on what we do."
Facebook and Twitter have accelerated EZBloomer.com's message on how the site saves florists as well as consumers money when purchasing flower arrangements online.
To become a fan of EZBloomers.com's Facebook page and learn more about their current contest and promotions, and communicate with other fans, please "like" them today at http://www.facebook.com/ezbloomers and/or follow them on Twitter at http://twitter.com/ezbloomers.
About EZBloomers.com: One of the leading online resources working to link top local florists with consumers, EZBloomers.com (http://www.ezbloomers.com/) offers custom floral arrangements without the high-priced service fees that have monopolized the online floral industry. No service fees allow the total amount to go towards what their customers order, allowing for a better quality product and ultimately the best value.
###