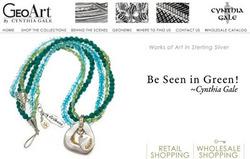 more primitive tranquil influence of Indonesia
New York, NY (PRWEB) October 8, 2008
Cynthia Gale, known for her handmade sterling silver jewelry, has custom-created a crozier, or pastoral staff, for The Rev. Canon Eugene Sutton, bishop of the Episcopal Diocese of Baltimore, MD, and former pastor of Washington National Cathedral. Cynthia creates custom-made jewelry for the Cathedral store, catalog and website.
The crozier features the repousse process, a signature of Cynthia Gale frequently incorporated in her custom handcrafted jewelry. This one of a kind piece also features the international influences that set Gale's work apart from other jewelry.
Gale is known for her signature Cynthia Gale line of museum jewelry and custom pieces, typified by handmade sterling silver jewelry that often draws upon influences from Indonesian culture and aesthetics. Gale states that she is inspired by the "more primitive tranquil influence of Indonesia" where she creates much of her work. Although the crozier is not typical of her line, it reflects her distinctive style.
Like many of her pieces, the crozier incorporates international elements. Design elements include repousse Jerusalem cross accents a filigree acacia tree, an African symbol for God, originally found in a textile pattern from Ghana. The crozier is paired with a piece of custom handcrafted jewelry, a pendant with a Jerusalem cross and the Ghanese symbol. The silver items were executed by a talented Muslim silversmith living in Yogyakarta, Indonesia.
A crozier is a pastoral staff traditionally carried by ranking clergy such as bishops. It is meant to represent a shepherd's crook to reflect the holder's duty to tend to their flock, or congregation.
Cynthia Gale has created other custom made, handcrafted pieces, available in museums, stores, catalogs and online at GeoArtNYC.com. Her African Gold Weight earrings were created for the Denver Art Museum and imitate Asante brass weights made to measure gold dust. The 7 Families of Faith bracelet, commissioned by the Washington National Cathedral, celebrates freedom of religious expression. The Zodiac Dial Necklace, designed for the National Gallery of Art, is based on a zodiac found in the Archetypa, a traditional resource for many decorative artists that features the life-like artwork of Joris Hoefnagel.
To see the full line of handmade sterling silver jewelry GeoArt By Cynthia Gale line, visit GeoArtNYC.com.
About Cynthia Gale:
A former international fashion model and a graduate of the Fashion Institute of Technology, Cynthia Gale first became enthralled with the art and culture of Indonesia during a modeling assignment in Jakarta. In 1991, she returned to Bali and was inspired to create her baseline, GeoArt By Cynthia Gale. In the late '90's, her signature Cynthia Gale Collection of custom and museum store jewelry was added. Since then, Gale's line has grown and is now available in many museums, Neiman Marcus, Nordstrom and other stores, and online retailer MaxandChloe.com. The line is known for its exotic influences and Gale's use of the repousse process.
###