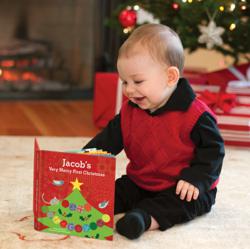 Babies love hearing their names read aloud in the story and they are drawn to the colorful illustrations
Minneapolis, MN (PRWEB) October 19, 2011
How can you make a baby's 1st Christmas extra special? Children's book publisher I See Me!, Inc. announces the release of My Very Merry Christmas, a new personalized children's book that celebrates baby's 1st Christmas with the baby's name featured on the cover, throughout the story and even incorporated into the illustrations. It is one of the very first personalized children's board books with sturdy pages that has ever been published in the USA.
This charming story, written by award-winning children's author Jennifer Dewing, features adorable animals that prepare for a very merry Christmas for the baby. This customized children's book features charming illustrations of Goose, Chipmunk and other furry friends who deliver a note to Santa, letting him know that the baby is about to celebrate his or her first Christmas. At the end of this delightful story, the animals circle the tree that they have adorned with the baby's name spelled out on the ornaments.
According to I See Me! Co-Founder and CEO Maia Haag, "For all of the children who received our classic My Very Own Name book when they were born, we wanted to develop a book that would celebrate their very first Christmas, which is such a special occasion. Babies love hearing their names read aloud in the story and they are drawn to the colorful illustrations!"
My Very Merry Christmas is a new book format for I See Me!, According to Allan Haag, I See Me! Co-Founder and Chief Creative Officer. "It's designed especially for babies and toddlers. This beautifully illustrated book has a hard cover with thick pages to accommodate our youngest (and strongest) reading audience!"
My Very Merry Christmas features colorful collage illustrations by artist Mati Rose McDonough. The technique McDonough used to illustrate the book is very upscale and unique. "For this book I was very drawn to bold and brightly colored festive patterns of the holidays. I design all my illustrations by hand cutting, pasting and painting, which is something of a novelty during these digital days!"
I See Me! has a free virtual tour of the book available on their website, and can be ordered online or by phone.
I See Me! Inc. creates high-quality books personalized with the child's name in the story. Maia and Allan Haag's mission is to increase self-esteem in children through personalized children's books that celebrate the uniqueness of each child. For more information or to take a free virtual tour of the children's books, visit ISeeMe.com or call 1-877.744.3210. All books are backed by I See Me!'s 100% satisfaction guarantee.
###