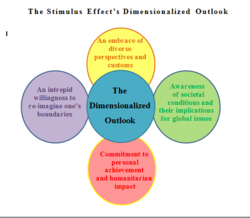 Cultural capital is not an ideal; it is a practical need.
Los Angeles, CA (PRWEB) August 28, 2012
It was September 15, 2008, and for a moment it seemed the world had stopped. It was not a devastating earthquake. It was not a torrential tsunami. It was the bankruptcy of Lehman Brothers, the seminal flashpoint of the financial collapse through which the world economy continues to slog through today. Perhaps not since 1929's Black Monday had a man-made event virtually matched Nature's fury.
With the grim backdrop of the persistently struggling economy, many wonder about the skills needed to help them back up—or for younger people, get them on—the professional ladder. The early 20th century's industrial economies have now shifted to knowledge ones, requiring scientific, mathematical, and technology competence. But, one asset is often neglected—cultural capital. The Stimulus Effect has been integrating a greater cultural focus into its content, and will expand globally oriented instruction in September 2012. Cultural capital entails an appreciation of diverse customs and perspectives, an informed understanding of societal dynamics' impacts on economic issues, and an intrepid willingness to re-imagine boundaries. To thrive in this new environment, individuals must consider how to take advantage of opportunities both inside and outside their borders. The Stimulus Effect has termed this perspective the "dimensionalized outlook," and is helping both students and professionals develop this perspective.
This summer, the company has already added special topics to its curricula, and will continue to expand its offerings in the fall. Here are some ways the company has begun building global mindsets:

Creative writing exercises with a focus on children's roles in their own and
international communities

Statistical analyses concentrating on drivers of health and environmental
threats

Science experiments integrating alternative energy structures and sources
Financial analyses addressing "triple-bottom-line" frameworks and structures
Employment-readiness services with an emphasis on cultural communication and the development of globalized skills
So, with the world's need for technical and scientific competence, why should culturally oriented material and instruction be accorded the same attention as other content? Members of the business and education communities have realized that to tackle the world's considerable problems, employees and students must be dimensionalized, armed with the technical skills and incisive insight to craft optimal strategies for complex challenges. Lovvorn and Chen (2011) found that individuals must have the "cultural intelligence" to maximize understandings from diverse experiences, and realize personal and professional success. Essentially, individuals cannot develop tailored strategies for countries and regions if they lack a fundamental understanding of local culture. As can be seen, cultural capital is not an ideal; it is a practical need.
In working with immigrants and with their own international experience, The Stimulus Effect's team has seen firsthand how a dimensionalized mindset spurs and motivates achievement. Arziki Phenyo, The Stimulus Effect's founder, discussed her curricular approach while teaching overseas. "Even in the midst of large classrooms with students of diverse learning needs, achievement goals were still obtained because of the implementation of standards-based—yet student-centered—curricula which addressed students' cultures, perspectives, and interests. Toward further engaging students—and preparing them for the dynamics of a global economy—the same can be done here." Pursuant to expanding their range of globally oriented content, and to guide international students, The Stimulus Effect will partner with Traduc, an educational organization specializing in language and test-prep services that help students build critical reading and writing skills.
Education and talent is no longer being measured only by mathematical proficiency, scientific understanding, or technical competence; it is also defined by awareness of global issues, cultural openness, and a willingness to transcend national borders. With unprecedented economic and cultural challenges, new solutions—and a new outlook—are required to confront them. Technical competence may have been the 20th century's asset. Cultural capital—and globally oriented education—are hallmarks of the 21st century's strategic advantage.
Reference
Lovvorn, A.S. & Chen, J.S. (2011, May). Developing a global mindset: The relationship between an international assignment and cultural intelligence. International Journal of Business and Social Science, 2(9), 275-283.