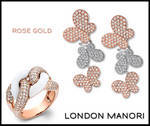 Los Angeles, CA (PRWEB) February 04, 2011
Los Angeles jewelry designer London Manori has good news for husbands and boyfriends this Valentine's Day: the hottest jewelry trend for the holiday is the beautiful but affordable rose-gold-dipped sterling silver. London Manori says the look and the price are right, so both jewelry lovers and the men who love them adore the line of vermeil jewelry made with rose gold.
Rose tone, rose gold and silver jewelry are very strong selling categories for 2011. Because of the rising cost of gold, consumers are looking for more affordable options that look stunning but don't leave them with sticker shock. Dipping gold onto sterling silver, a process known as "vermeil," is less expensive than solid gold, but doesn't compromise quality. Vermeil jewelry has become very popular in recent years.
"What better way to get the rose gold jewelry look without breaking the bank than to purchase a sterling silver piece which is dipped in the exotic metal of rose gold?" asks London Manori co-founder Aneela Manori.
Los Angeles jewelry designer London Manori has produced a striking line of sterling silver pieces dipped in rose gold, as well as solid rose gold jewelry. Bold rings, sensual necklaces and flirty earrings are popular gifts this Valentine's Day season. The precious metal's pinkish hue gives it a romantic softness. However, the interlocking loops in pieces like the 14 Karat Rose Gold Swirl Necklace with Diamonds or the complex textures in the Rose Gold Chandelier Earrings give the classic rose gold a distinctly modern flair.
"Textured rose color jewelry is to die for," remarks Dixie Toledo, a fashion stylist from Los Angeles who is closely watching jewelry trends for 2011. "The 18 karat Rose Gold Chandelier earrings are a must have for Valentine's Day!"
"Rose gold and rose gold vermeil are the cutting edge of a new trend," adds Manori. The metal has recently been spotted on several A-List celebrities. Sandra Bullock shone in rose gold at a recent awards ceremony. Angelina Jolie not only wears rose gold, but is also designing pieces with it for an upcoming jewelry line. Hollywood is falling in love with rose gold jewelry this Valentine's Day.
For more information and to purchase London Manori products, call them at (213) 785-6845, view their website at http://www.londonmanori.com/, or visit one of their Los Angeles-area stores. For a list of retail locations, please visit http://www.londonmanori.com/stores.html.
About London Manori
London Manori is a Los Angeles custom jewelry designer and manufacturer. By combining unique designs and state-of-the-art techniques, they create an exceptional collection of fine jewelry with unmatched quality and precision. They design and sell a wide assortment of necklaces, rings, charms, bracelets, and jeweled leaves. Rose gold vermeil jewelry plays a prominent role in their Spring 2011 collection.
###