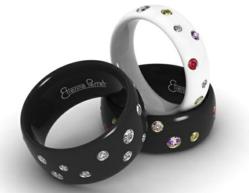 It's the perfect alternative material for wedding rings for both women and men who are hard on their jewelry
San Francisco, CA (Vocus/PRWEB) April 01, 2011
Many people with active lifestyles think they have to choose between a delicate ring made of precious metals and a sturdy ring that looks less elegant. Union Street Goldsmith in San Francisco offers the best of both worlds. They are now carrying the award-winning designs of Etienne Perret's new Gem Ceramic line, a scratchproof collection of fine jewelry that stays beautiful for a long time and sells for a fraction of the price of precious metal counterparts. Available in a variety of colors of styles, Gem Ceramic can be inlaid with gold and set with diamonds or pearls.
"So, tell us, what impresses you more: the ability of a Gem Ceramic ring to crack marble or polish a steel file?" asks Etienne Perret. "One way or another, this is tough stuff—and with its appealing color choices and affordable pricing, it's the perfect alternative material for wedding rings for both women and men who are hard on their jewelry."
Etienne Perret holds both a degree from the Rhode Island School of Design and a graduate gemologist's degree from the Gemological institute of America. He has won two Diamonds of Distinction awards, and has twice been a finalist in the prestigious Diamonds International Design Competition. The Platinum Guild International is currently featuring Perret's work to commend its innovative uses of platinum.
Gem Ceramic jewelry is made of tough Zirconia ceramic, the same material used in professional ceramic knives, and it is available in either a polished or matte finish. The ceramic is molded, cast as a powder, and set with diamonds or other precious gems. While the Gem Ceramic pieces weigh less than traditional precious metal designs, they can better withstand the banging, scraping and dropping of everyday life.
Stones are set by inserting 18K gold tubes into holes in the ceramic. Perret specializes in natural color diamonds, color-enhanced stones and affordable High Pressure High Temperature (HPHT) diamonds in a variety of colors.
Union Street Goldsmith carries the innovative Gem Ceramic line. Founded over 30 years ago, the San Francisco custom jewelry boutique is known for its attentive and knowledgeable staff, personalized attention to detail, and array of designs. The Marina/Cow Hollow boutique showcases sparkling engagements rings, quality gemstones from around the world and statement jewelry for men and women.
"I receive so many compliments on the engagement ring that Union Street Goldsmith set for us," said Union Street Goldsmith customer Jill K. "The setting is of highest craftsmanship, not to mention gorgeous (if I do say so myself) and unique. Summer, the jeweler who worked with us, was warm and professional, as was the rest of the staff...The people at USG really know how to create a positive experience for their customers, and their work is second to none."
Along with the Gem Ceramic line, Union Street Goldsmith also offers an assortment of stunning, one-of-a-kind pieces that can be tailored to match a customer's unique specifications and style.
For more information about the Etienne Perret Gem Ceramic line or any of Union Street Goldsmith's products or services call (415) 658-9315, view their website at: http://www.unionstreetgoldsmith.com, or visit their store located at 1909 Union Street in San Francisco.
About Union Street Goldsmith
Union Street Goldsmith is a San Francisco custom jewelry store that specializes in engagement rings, diamond rings, wedding bands, 22kt gold, platinum, pearl necklaces, and jewelry repair. Glenda Queen and Terry Brumbaugh founded Union Street Goldsmith in the Marina District of San Francisco in 1976. They have been jewelers for so long that they are now creating engagement rings and wedding bands for the children of couples whose rings they made decades ago.
###