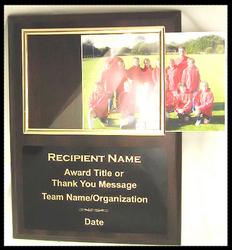 Photo plaques make great gifts
Elgin, IL (PRWEB) September 2, 2008
MyTrophyStore.com, home of custom made trophies, now offers customizable plaques in various sizes and styles. For corporate recognition, photo commemoration, and sports awards, MyTrophyStore.com is now the place to go.
The celebrated trophy store, which specializes in trophies for children, has created a variety of corporate plaques, photo plaques, and sports plaques for purchase and customization. The plaques feature, respectively, gold engraving, photos, and sports designs, and come in a range of sizes including 5 x 7, 6 x 8, 7 x 9, 8 x 10, and 9 x 12, depending on the variety. Each plaque has its own unique selling points, but MyTrophyStore.com believes that all of their plaque varieties are great selections.
"Photo plaques make great gifts," says Todd Adams, spokesperson for MyTrophyStore.com. "A team photo plaque, for example, is a piece of your own personal history that can be shared for generations to come."
Outside of photo plaques, MyTrophyStore.com has a wide variety of trophies for children and adults alike. By simply visiting their homepage, potential customers can see that MyTrophyStore.com offers custom made trophies for academics, baseball, basketball, cheerleading, coaching, football, gymnastics/dance, hockey, karate, lacrosse, music, and much more. While trophies can be appropriate for people of all ages, MyTrophyStore.com finds special enjoyment in the distribution of trophies to children.
"It's very nice to see the smiles on kids' faces when they get their trophy," says Adams. "Families with children involved in sports should consider our own family-owned business to reward their children for a job well done."
While many of the plaques are new, the rest of MyTrophyStore.com's business practices remain the same. Customers are provided an easy, step-by-step process for creating their plaques and trophies and are encouraged to make use of the Web site's engraving template. MyTrophyStore.com offers more engraving characters per plate than any other site on the internet, and an added bonus, there is no additional charge for personalization. Such offerings have made MyTrophyStore.com the place to go for plaques, trophies, and more, but also for attention to detail and good customer service.
For more information or to purchase youth baseball trophies, academic trophies, and more, visit MyTrophyStore.com.
About MyTrophyStore.com:
MyTrophyStore.com is a new company with an old spirit deeply rooted in the tradition of the awards industry. The individuals at MyTrophyStore.com like to make connections with people and they do so by creating unique awards to symbolize a very proud moment in time for the recipient. For more information, visit their Web site at MyTrophyStore.com.
# # #