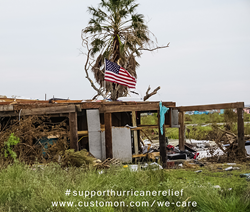 A donation is not a dollar once it leaves your hand. It becomes water, food, medicines, shelter, clothing and it can save lives, reunite families, and give hope to the hopeless. - Ramazan Taylan
Eatontown, New Jersey (PRWEB) September 27, 2017
"A donation is not a dollar once it leaves your hand. It becomes water, food, medicines, shelter, clothing and it can save lives, reunite families, and give hope to the hopeless," says Ramazan Taylan, Founder of Customon.com.
Most companies are helping hurricane victims primarily by supporting organizations who take care of people in need. Apple, Coca-Cola, Ashley Furniture, Discover, Bank of America, and IBM are just a few names who made significant donations to various organizations like American Red Cross, Salvation Army, Catholic Charities USA to provide supplies for those who have suffered the most.
According to trusted media sources, more than 200,000 houses have been destroyed by both hurricane Irma and Harvey and over 100,000 people are taking shelter. Did you know that more than 100 people have lost their lives and around 200 people are still missing?
Crazy, right?
Inspired by the big corporations, Customon decided to create a campaign that will allow people to donate to various charities by purchasing t-shirts with a message that symbolizes their support. Supporters can encourage more people to come forward and contribute, by wearing these t-shirts.
"It's one thing that someone makes a donation to help those in need, but when you get to wear a T-shirt that tells everyone that you are a supporter, it inspires others to do the same and it starts a movement. A movement to extend your helping hand for those who need it the most at this time" - says Uğur Mamaç, from Customon Team.
Get Involved, Help People From Home
Customon.com is an online retailer for custom design T-Shirts, Hats, Kids wear, Hoodies, and 40+ other products, based out of New Jersey. Ozkan Ceylan witnessed how helpless some families had become during Sandy and added - "Just seeing people live in shelters for 2 weeks, is heartbreaking because it takes away a lot from people and their life can just never be the same again."
The company pledged to donate 100% of the proceeds from their fundraiser to support the hurricane victims. The company believes that in this time of need, all those who are fortunate to be capable of helping can make small contributions. As a thank you, Customon.com assures all users that they will be offering all the donors exclusive deals and offers that will help them save money on future orders from their website.
Those who want to get involved to support their fellow man, woman, children and family, can do so by visiting http://www.customon.com/we-care and show their support. Supporters are also urged to take a picture with the shirts and post those on social media sites to show their support using hashtag #SupportHurricaneRelief.