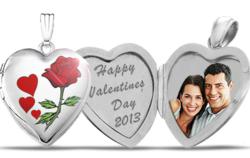 Customers can select from 100's of different Valentine's Day related designs for the front side of the locket & edit exactly how they would like the photo to appear
Staten Island, NY (PRWEB) January 23, 2013
PicturesOnGold.com one of the largest online jewelry retailers of personalized laser engraved photo jewelry, announced today that just in time for the sweetest holiday of the year, it has added newly designed photo lockets in its 2013 Valentines Gift Collection . The Sterling Silver "Valentine" Sweetheart locket is a gorgeous addition with its bright and bold decorative red rose and hearts. PicturesOnGold.com offers a wide range of unique personalized jewelry for Valentine's Day that creates wonderful memories, and last a lifetime. Customers can select from 100's of different Valentine's Day related designs for the front side of the locket & edit exactly how they would like the photos to appear.
As stated by Daniel Schifter, President & CEO of PicturesonGold.com, "The search for the perfect gift for Valentine's Day is not an easy one. Valentine's Day is the time gift-givers want to impress their loved ones with something truly unique. Shoppers want the gifts they give to have a "wow "factor. Finding something that captures a person style and personality is essential. Shoppers can browse through this years' extensive Valentines Gift Ideas to find the perfect gift from the comfort of their homes."
PicturesOnGold.com takes your cherished pictures and laser engraves them onto the photo jewelry of your choice. They also add protective jewelry enamel to every piece to ensure that each day your photo jewelry will look as beautiful as the day you took it out of the stunning black velvet gift box in which it arrives.
The creation of the photo jewelry is completely customized. Photos are permanently laser engraved inside the photo jewelry, and a special message can also be engraved. As explained by Mr. Schifter, "The uniqueness of our photo engraved jewelry is the customers' ability to personalize it, choose photos of their family and loved ones - which our unique photo engraving process guarantees to be 100% waterproof, and scratchproof - and the engraving is guaranteed to last a lifetime. This Valentine's Day create a piece of jewelry that last a lifetime. The detail and likeness of the photo to the original is remarkable. All of this can be easily done on our website at PicturesOnGold.com."
Among the categories featured for women are photo engraved lockets, photo pendants, photo charms, bracelets, and key chains. There is something distinctive for everyone, including the "Hot Lips" jewelry which feature impressions of your lips etched in laser, or showing the true color of your lips- using your favorite luscious color lipstick. These pieces are bold, beautiful, bright, and will wow your loved one. You can either click a photo of your lips on your cell phone, and upload, email, fax, or send your lip impression by mail.
During the season of Cupid and love, the desire for Heart shaped photo lockets is always great. There are many to choose from, and these pieces are available in Sterling Silver, 10K Yellow or White Gold, and Platinum. They are also available for children.
Among the many categories for men, are monogramed, and photo engraved dog tags, cufflinks and watches. There is even a gift especially designed for the "Shy Guy", a Swivel Designed Dog Tag that revels a photo when is swings.
There is also an option to "Design Your Own Locket." Picture yourself as a fashion designer creating unique Personalized Photo Locket jewelry. Express your inner artistic talent and create a one of a kind photo locket to give as a Valentine Gift this year at picturesOnGold.com using the Interactive Locket Designer. It is a very simple process that includes 3 steps. First, select the metal and shape; second, customize it-add your photos, a message to engrave, or clipart; third, complete your locket by emailing, uploading or mailing it." It's a great way to use your creative skills when buying a gift at PicturesOnGold.com." said Mr. Schifter.
Photos are lasered on to the jewelry in color, black and white, or sepia. PicturesOnGold.com can also, modify, digitally enhance, bring people closer together, and zoom in to bring out the photo.
For more information on Valentines Gifts, visit the Valentines Gift Collection, and follow them Facebook, Twitter and Pinterest for the latest updates.
###
About PicturesOnGold.com:
PicturesOnGold.com™ has been manufacturing jewelry since 1998 for the jewelry industry throughout the world. 95% of the work is done directly in their factory. PicturesonGold.com is the only company in the world to laser-print full color, sepia, or black and white photos onto jewelry. A sentimental photo can now be downloaded and permanently imprinted on a 14k gold locket or sterling silver lockets. Initials and a message can also be engraved to further develop the personalized jewelry. The website was created in 2005 and has some unique products like Photo Engraved Jewelry, Lockets, Medical Id Jewelry, Custom Sports Jewelry, Religious Medals, Awareness Ribbons, Childhood Cancer Awareness Jewelry, Personalized Name Bands, Monogram Jewelry, and many other choices.
For additional information, log onto PicturesOnGold.com