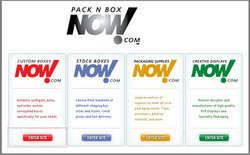 And our online shipping box configurator lets you see pricing in real time, even while adding custom printing.
Minneapolis, MN (PRWEB) October 9, 2008
Custom Boxes Now! has achieved not one but two important milestones. The company has shipped custom shipping boxes to each of the 50 United States and has received more than 3,000 orders. Stock boxes, packaging supplies, and cardboard product displays, including POP and specialty packaging, are sold through the company website, PackNBoxNow.com. These provide a full line of packaging and display solutions, including custom shipping boxes, used heavily by businesses throughout the United States.
"Custom Boxes Now! allows customers to easily order customized shipping boxes: any style, any size," says COO Bill Calengor. "And our online shipping box configurator lets you see pricing in real time, even while adding custom printing."
More than 3,000 times, Custom Boxes Now! has delivered a quick turn-around on an order for custom shipping boxes. A streamlined system, the Custom Box Configurator, has made all the difference for businesses nationwide that need custom packaging solutions to complement brand identity efforts.
Same day shipping makes the service ideal in today's busy world. Customers simply enter style, quantity, dimensions, color, box strength, and printing required, including custom logo options. Immediately, they can view pricing details, including shipping costs, and if the order is received before noon CST, the custom boxes ship out within 24 hours.
"We are proud of our ability to produce and ship most boxes within 24 hours. We do all we can to give our customers the speed and service they need to make their operations more effective," explains Calengor.
Live help is available too. Furthering the effectiveness and convenience of the shipping box configurator, Custom Boxes Now! provides customer service via live chat, email or phone. Clients gain immediate assistance with challenges that might arise while specifying their custom packaging needs.
Other features of PackNBoxNow.com include:

Clean web design and easy interface that reflect the clarity and quality of products offered
A commitment to Green: custom made boxes are 100% recyclable and contain a high percentage of recycled materials.
No minimum order plus price reductions for larger orders
As-needed capabilities: customers can order cardboard shipping boxes as they are needed instead of investing in and storing a large amount of stock
Flexibility: customers can easily respond to changes in their inventory or shipping requirements
To explore custom packaging solutions from Custom Boxes Now! visit PackNBoxNow.com.
About Custom Boxes Now!
Part of the PackNBoxNow.com family of shipping and product display solutions, Custom Boxes Now! is an innovative online interface that connects clients to custom packaging solutions built to their exact specifications. Custom Boxes Now! operates a 200,000 sq. ft. manufacturing facility and a design staff of seven to handle special orders.
###