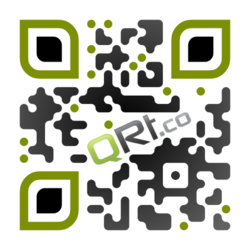 Customized QR Codes are just more persuasive. They are more eye-catching, convey brand, and...
Dallas, TX (PRWEB) May 30, 2012
QRt.co, a privately held technology company, announced today the availability of the industry's first commercial, custom QR Code generator. No longer are auto-created QR Codes limited to the industrial-looking, black-and-white, square-block standard. Using QRt.co's online tool, everyone can now produce visually compelling QR Codes with just a few clicks. Marketers in particular can easily brand their QR codes with company logos and unique color combinations, while tailoring to the look and feel of their campaign with the perfect gradients, textures, backgrounds, accents, and block styles.
"Customized QR Codes are just more persuasive. They are more eye-catching, convey brand, and give better indication of what the person who scans it will get. Also, there is the fun factor. These things all encourage scans," said Will Bengtson, CEO of QRt.co.
Nathan Culbertson, the company's Chief Technologist said, "We want everyone to be able to easily and quickly create an engaging QR Code, whether for personal use or for business. Our pre-configured templates for social media (Facebook, Twitter, etc) make generation of an engaging QR Code effortless on your part. You can even use the templates as a starting point and add personal touches yourself. For the more serious designer, we provide the ability to customize nearly every element of the QR Code."
Pricing
QRt.co offers customized QR Codes today at an introductory price of $9.95 per code, when purchased individually. Volume and corporate discounts are available. This price point is a substantial savings compared to the current cost of custom QR Codes that are manually created by graphic artists. These hand crafted QR Codes typically range from $25 for simple effects to in excess of $150 for fully customized QR Codes.
Businesses can use QRt.co as an enabler of cost-effective, high-volume, custom QR Code applications. For example, a template can be created for a real estate company and then custom QR Codes can be created for each of their individual property listings without incurring the traditional time and cost associated with custom QR Code generation.
Standard codes are available free of charge at QRt.co, when using the Basic QR Code generator.
About QRt.co
QR Codes are among the latest in mobile marketing technology. Our mission at QRt.co, or QRt (pronounced "q-art"), is to provide the ability to easily and instantly self-generate professional–quality custom QR Codes ranging from the standard black-and-white visual, to radically enhanced, clever, and persuasive designs. The end product can be considered a work of art, and thus gives rise to our company name. Visit us at http://www.QRt.co.
QR Code is a registered trademark of Denso Wave Incorporated.