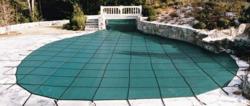 St. Paul, Minnesota (PRWEB) August 07, 2012
PcPools, one of America's leading direct marketers of swimming pool products and accessories, announces that it is an authorized dealer of Custom Arctic Armor™ safety covers for in ground pools. Custom-built Arctic Armor™ safety covers are made of the same, superior materials as standard size models but are available in more colors and styles. For example, they are available in standard mesh, super mesh, commercial mesh, and ultra solid, and and available colors include green, blue, tan, black, and gray. More details on available options are available here.
PcPools provides a measuring and estimate form approved by Arctic Armor™ for customers to complete during the quote and order process. It also serves as the basis for manufacturing the custom cover so accuracy is very important. Fortunately, the form provides detailed instructions on how to measure a free form or oval swimming pool as well as describes what else may be required to facilitate accurate construction. If customers have questions PcPools customer service experts are available to help.
Marketing Director Steven Anderson had this to say about being named an authorized dealer: "In ground pool owners trust Arctic Armor™ pool covers to keep their swimming pool area safe, but many homeowners have unique pools with unique requirements. Not everyone is capable of offering custom Arctic Amor™ safety covers and we are pleased to be able to do so. They are essential in protecting pools from unwanted intrusions and we want to be capable of assisting all pool owners in getting high-quality covers whether they have a free form pool or a standard rectangle."
About PcPools
PcPools is one of America's leading multi-channel direct marketers of swimming pool supplies and equipment to the residential and commercial markets in the United States. Founded in 2000 by a leading executive in the pool supplies industry, it has since been dedicated to providing residential and commercial pool owners with high quality swimming pool supplies and equipment at warehouse direct prices. PcPools' product line – all of which is sold through our catalog and internet channels – includes above ground pools, automatic pool cleaners, pool liners, pool heaters, pool chemicals, pool covers, and other pool accessories. PcPools' strong relationship with leading pool supply manufacturers and distributors creates a truly unique combination of quality product at excellent value for its customers.
About Blue Wave Pool Products
Blue Wave Pool Products, owner of Arctic Armor™, is headquartered in St. Charles, IL. It is a leading distributor and manufacturer of pool products and supplies to swimming pool retailers across the United States. Blue Wave Pool Products manufacturers and/or distributes above ground pools, in ground pools, replacement pool liners, pool equipment, pool covers, pool chemicals, supplies, and backyard living products.
Note to Editors: If you are interested in viewing addition information about PcPools or Blue Wave pool products please visit following websites: