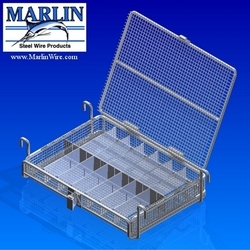 American factories need to grow and exporting is a great way for our manufacturing to surge ahead.
Baltimore, MD (Vocus) July 20, 2010
In the past three months, Marlin Steel Wire is shipping so fast with so many innovative designs, exports have surged in wire baskets, wire forms and sheet metal fabrications:
China – stainless wire forms
Finland – custom metal baskets
Denmark – stainless steel wire baskets
Switzerland – precision wire forms
Ireland – stainless wire forms
Australia – custom wire baskets
Singapore – galvanized wire forms
United Kingdom – engineered wire baskets
Japan – custom stainless wire baskets
Recently, Marlin Steel Wire President Drew Greenblatt met with US Trade Representative Ambassador Ron Kirk and urged him to promote exporting; "American factories need to grow and exporting is a great way for our manufacturing to surge ahead." In addition, Greenblatt continued, "manufacturing jobs are great jobs. We pay well and have health insurance. It is a good middle class job. We need to make manufacturing thrive in the USA."
Marlin Steel has accelerated its growth plan by hiring more mechanical engineers – amazingly 20% of Marlin Steel's employees are designers or engineers. Greenblatt continued, "Marlin Steel's intellectual horsepower allows us to come up with great designs that save our clients money and let them reduce scrap costs. The engineers also develop slick ways to ship-quick the highest quality part in the industry."
To keep the momentum going, Marlin Steel has invested over $2.5 million in new robot technology to ship fast.
Marlin Steel invested in the world's fastest sheet metal punching robot in June to satisfy the metal fabrication demand from foreign clients. This week the sheet metal fabrication robot formed precision sheet metal fabrications for a Japanese automotive client. Christopher Elwood, a Marlin Steel Mechanical engineer, said the "quality on this machine is the tightest in the industry. When I tell my clients that our tolerance is +/– 0.1mm (0.004") tolerance, it exceeds their expectations and sets us apart from the competition." Another Mechanical Engineer at Marlin Steel, Tony Witt declared, "the brand new punching machine enables us to do secondary operations within the punch like louvers, tapping roll forming style so we have no need for pokey Pem insertion, forming flanges 1" high in the z-axis while stroking 900 times a minute." Witt continues, "Our sheet metal fabrication punch is the fastest in the USA not only because it punches fast but because it does so many other steps right on the machine so they are not done later by imprecise direct labor." Marlin Steel hired a Mechanical Engineer to assist in programming the robot because it has sophisticated optimization software that maximizes the yield of the sheet metal.
###