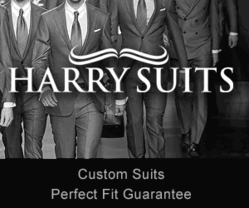 (PRWEB) January 24, 2012
Professional men will now have access to top-quality custom suits at affordable prices with the launch of HarrySuits.com.
The website, which has been launched by clothing retailer HarryFashion, offers custom suits, jackets and pants created by master tailors and skilled craftsmen. The company is combining the quality of a traditional tailor shop with the efficiency of modern online technology to deliver its products to customers at low prices and with ultimate convenience.
"We are very proud to launch HarrySuits.com and offer our high-quality men's apparel at discount prices," said Harry Suits, CEO. "With us, you have a one-stop shop to find custom suits that fit well and make you look and feel your best."
By creating an account, users can store their measurements in the HarrySuits.com system, meaning they can come back at any time without having to re-enter their information. Customers can also request samples from the company's range of fabric swatches so that they can be sure they are getting the right color and style for them.
HarrySuits.com's line includes solids, pinstripes, plaids and checks, blacks, blues, grays and browns, and will soon offer corduroy, linen, tweed and cotton. It carries jackets and pants that can be purchased separately, also available in a wide variety of colors and styles. All of the company's items are custom tailored by professionals and sewn individually, using the best wool fabrics manufactured by the finest mills that specialize in fine counts.
"We are committed to providing the utmost quality when it comes to our suits," said HarrySuits. "We take pride in our products and deliver only the best to our customers all around the world. Simply put, you don't have to sacrifice excellence when you choose to buy your suits online."
HarrySuits.com has a Perfect Fit Guarantee, which means each one of its suits will fit your measurements perfectly. It also offers a discount "My First Custom Harry Suit" to allow customers to see the quality the company provides.
To learn more and to browse the company's outstanding selection of fine suits, visit http://www.harrysuits.com.
###