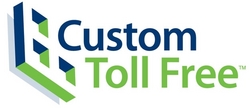 We knew we were in a good position to help our clients gain access to this rare marketing opportunity
Seattle, WA (Vocus) October 12, 2010
Custom Toll Free, a national leader in search, marketing and provisioning of vanity toll free numbers, announced today that it reached a nearly 85% success rate for filling customer requests of the new 855 Toll Free prefix. "We knew we were in a good position to help our clients gain access to this rare marketing opportunity" said Christy Brugger, vice president of sales and marketing for Custom Toll Free.
Toll free vanity numbers have long been known to increase customer loyalty, brand recognition, and referral rates for companies around the globe. For over 10 years now the best vanity numbers in North America have been in use and unavailable across all four of the previous toll free prefixes (800, 888, 877, and 866). The release of a new toll free prefix has given companies of all sizes an equal opportunity to benefit from the advantages of a branded vanity number.
"Carriers are currently working overtime to activate the newly requested 855 toll free numbers but the sheer volume has created a huge backlog. Many of the new numbers won't be activated until the backlog is cleared, and that could take several days" reports Ms. Brugger.
Fully portable 855 requests are still available from the Custom Toll Free website at a flat reservation fee of $500. This fee includes personal assistance with the necessary paperwork required to change telephone carriers.
.
To learn more about Custom Toll Free's 855 reservation service, please visit Custom Toll Free or call 800-933-3030.
About Custom Toll Free
Custom Toll Free is a national leader in the field of web services and marketing with vanity phone numbers. Custom Toll Free provides clients number search and location, market consulting, direct response services and e-commerce technology solutions for marketing and telecommunications companies nationwide. For more information, please visit http://www.customtollfree.com or call customer service at 1.800.CUSTOMIZE.
###