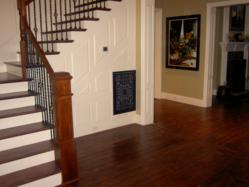 We believed it was a product people would buy once they saw it. Together we have built our little company from nothing to a thriving business, shipping products all over the US.
(PRWEB) May 22, 2013
When homeowners are faced with decorating a room, it's likely something very specific is in mind. Every detail matters. These were certainly the feelings of Nashville homeowners Earl Tatom and Cindy Moore. After seeing the concept of a decorative air return vent cover at a Parade of Homes, Earl decided to try a hand at custom-building a wrought iron one for Cindy. It was a hit, not only with Cindy but with many friends and family. Suddenly it was noticed what an amazing effect that such a simple change could have on an entire room. To the surprise of the entrepreneur husband and wife team, Earl and Cindy began receiving orders from impressed guests. With Earl's metal-working skills and Cindy's gift for design, it was no surprise immediate success was forming. Soon the custom-designed decorative vent covers were in high demand, and FancyVents.com was born. To celebrate the popularity of the custom-designed vent covers have received, FancyVents is giving away a custom vent cover, to learn more and to enter the contest, visit the official entry page.
In the beginning it all stated with a few designs, Earl handcrafted FancyVents first orders in the basement. The team currently has dozens of designs. Decorative vent covers are always custom-made to order, fitting every customer's size and style needs. "We do everything from traditional to contemporary," says Cindy. Cindy works with customers that aren't sure what look is best suited, ensuring every client gets a piece that fits each unique personality.
FancyVents' products are made with the consumer in mind, not only in design but in installation. Any handy homeowner can install the decorative vent cover in a few easy steps. Simply remove that old ugly cover, and replace with a new piece of art that's unique to one's taste. Earl and Cindy call this the "15 minute remodel," since it will transform the look of a home in ways homeowners didn't think possible.
FancyVents quickly outgrew the basement, and in 2008, opened up a hometown studio. A story that is truly an inspirational example of success through risk-taking. "We took a huge risk when we jumped out of guaranteed jobs in the corporate world to start this business," Cindy adds. "We believed it was a product people would buy once they saw it. Together we have built our little company from nothing to a thriving business, shipping products all over the US."
Word has spread about what FancyVents has to offer. Homeowners all over the world are looking for an inexpensive way to update the look of a room this spring. Earl and Cindy aren't showing any signs of slowing down. The custom vent makers products will be featured in a number of showcases this season, with back to back appearances in the Southern Living Showcase Home. The husband and wife duo also enjoy working to benefit cancer research, as this year will be mark the fourth donation in the local St. Jude dream home.
With distributors in Nashville, Louisville, and Cookeville, FancyVents offers decorative air vent covers to any design-enthusiast looking to add a finishing touch to a room. Founded by husband and wife entrepreneurs Earl Tatom and Cindy Moore, FancyVents provides customers with a quality product that exceeds expectations. A number of designs and styles, as well as a custom order form, can be found online at fancyvents.com. The handcrafted products have been featured in a number of showcases, including Southern Living. Customers are served all over the US from the Nashville, TN studio.