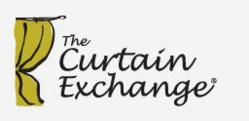 We have a lot of respect for Paloma and we are thrilled to be featured in her blog
Dallas, TX (PRWEB) May 18, 2013
On Thursday, May 16, high-end style blog La Dolce Vita referenced custom window treatment franchise The Curtain Exchange in a post about the author's linen curtains with Greek key trim produced by The Curtain Exchange. In addition, the author stated that after spending time with The Curtain Exchange Founder Georgina O'Callan, she would feature a blog post in the near future revealing O'Callan's curtain expertise.
"I had beautiful, new linen curtains with Greek key trim made by The Curtain Exchange and could not be happier with them. They're gorgeous and transformed my house. I also learned a lot from Georgina, the founder of The Curtain Exchange, so look for a post including everything you could ever need to know about curtains," quotes La Dolce Vita author Paloma Contreras on her blog.
Founded and edited by Contreras, La Dolce Vita is a globally read and respected website that has been featured in some of the most prominent publications, including The Washington Post, New York Magazine, New York Times and Apartment Therapy. Posts in La Dolce Vita range from interior design and style inspirations to favorite travels and recipes. There is something for everyone to enjoy in La Dolce Vita, and Contreras highlights just how sweet life really is with every post she generates.
"We have a lot of respect for Paloma and we are thrilled to be featured in her blog," says The Curtain Exchange Founder Georgina O'Callan. Visit La Dolce Vita to read the full blog post.
The Curtain Exchange offers custom luxury drapes and designer drapery and window treatments in various cities, including but not limited to Atlanta, Georgia; New Orleans, Louisiana; Birmingham, Alabama; St. Louis, Missouri; Nashville, TN; Louisville, KY; and Stuart, Florida. In addition to a constantly updated line of fabrics that may be selected from to create custom draperies, The Curtain Exchange also carries a distinctive selection of ready-made curtain styles and offers drapery hardware and installation. The store's in-house consultants are happy to work with guests in-store or at home, and customers are encouraged to take advantage of The Curtain Exchange's 48-hour take home approval process. All of The Curtain Exchange's draperies are made in the USA. For more information or to schedule an in-home consultation, please visit http://www.thecurtainexchange.com.