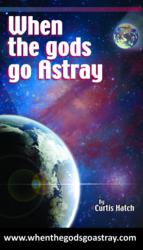 Every government degenerates when trusted to the rulers of the people alone. The people themselves are its only safe depositories.
Thomas Jefferson
Westminster, SC (PRWEB) July 21, 2011
It is a well-known fact that a business or corporation that continually spends more than it takes in will eventually find itself bankrupt and unable to borrow more money. Government, likewise, that spends more than it takes in has only one way to continue the practice. They must take more money away from the people to fill the coffers. The other solution is to reduce spending to an amount equal to or less than incoming revenues. It is just common sense, yet Washington cannot seem to understand the basic principle. The story line in Hatch's new novel, "When the gods go Astray," documents a society where government has taken on a dictatorial role and peoples liberties have been stifled.
The United States has been in debt since before WWII. Relatively speaking, the debt remained level from the end of the war until the mid sixties and Vietnam. It should be remembered that the debt remained flat during the Korean Conflict. In short, Congress has a longstanding record of spending more than it has. Overspending began to accelerate in the mid seventies. Between 1981 and 1986, the debt doubled from Just over $1.0 trillion to well over $2.0 trillion. The upward spiral has continued to accelerate since then. Much of the spending was blamed on the cold war that ended in the late eighties; however, the spending continued to accelerate.
Today, the US is at war in Iraq, Afghanistan, and Libya. Tomorrow it may be Yemen. How long can the county continue to police the world, destroy and rebuild countries, and provide foreign aid to countries who will cheer its demise? The United States is broken and borrowing massive amounts of money to finance the endeavors.
Hatch believes we are doomed, unless sanity and discipline take hold in Washington. He believes the United States can and will fail if it continues the current trend. If so, what will happen to the people's remaining liberties? Can a weak United States survive in this time of globalism? He thinks not. The push for a global economy and currency can only succeed with a globalized government. This is Hatch's great fear. "When the gods go Astray" is his new novel. It is rich in adventure, suspense, and romance played against a backdrop of a global government. Many of the situations the characters are engaged in are happening to some degree in this great country. It is a look at the ramifications of what happens when government is allowed to become too powerful, and when special interests apply undue influence.
Hatch is carrying his message through the Tea Party, Media, the Internet, and public appearances. He hopes his view of the society in the novel will prompt people to stop and ask a simple question. Is Niburu the society one wishes for his or her grandchildren?
The novel is available at http://www.whenthegodsgoastray.com and Amazon in both paperback and Kindle.
###