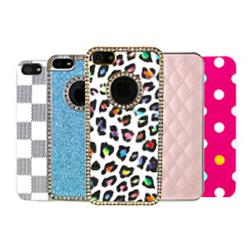 Cute iPhone cases and accessories are a must-have for every girl!
Arcadia, CA (PRWEB) June 18, 2013
Mobile accessory firm Luxe-Case.com has released a new line of iPhone cases following its successful first run in early 2012. The online mobile boutique's iPhone cases have gained immense popularity with fashion forward females looking for elegant, designer iPhone, iPad, Galaxy S3 cases and accessories.
Christina Lee, Promotions Director for Luxe-Case.com stated, "The response from our new line of cases has been tremendous. The new offerings include playful prints perfect for summer as well as refined patterns that exude elegance and femininity."
One of the most popular cases is the "Sightseeing in Paris" white leather iPhone case designed for the iPhone 4, 4S and 5. The case features a natural white leather pattern with smooth finishing touches of silver around the lining and Apple logo. Other popular designer cases featured in the new line include the "Sparkling Nights" pink iPhone case and the "Luxury Quilted" white iPhone case.
When asked about the "Luxury Quilted" white iPhone case, Becky stated, "This case looks even better than the photos! Their selection is elegant, unique, and really classy. Plus their customer service is phenomenal! Luxe-Case is definitely my go-to store for cute iPhone cases and accessories, I will definitely be back for more! No more plain, bulky cases for me!"
Ms. Lee went on to exclaim, "Our customers are surprised at the quality and durability of our cases in addition to the cutting-edge designs. Our clients tell us all the time that wherever they go, people ask them where they got their beautiful case. And with price points ranging from just $13.99-18.99, it's easy to afford one for every occasion and season."
In addition to the new and existing lines of iPhone cases, Luxe-Case.com features designer cases for the iPod, iPad and Galaxy S3. The site also features smartphone charms and accessories with pearls, rhinestones, flowers and more.
All U.S. orders are shipped free of charge and are typically shipped within 1-2 days. Customers can track their order and speak to or email a customer service consultant for inquiries. And unlike other iPhone case companies, all orders ship from the United States rather than remote international locations.
"Smartphone cases have become one of the most important fashion accessories right along with handbags. In essence, a smartphone is really a digital handbag full of important information. We believe women deserve to have a cute iPhone case that's as fashionable and unique as they are", says Lee.
About Luxe-Case.com
Luxe-Case.com specializes in fashionable smartphone cases and accessories designed exclusively for modern women. The company was founded in 2012, and has quickly gained traction in the competitive iPhone accessory space for their exclusive designs, free domestic shipping and affordable prices. iPhone cases and accessories at Luxe-Case.com cannot be found at large retailers. Customer satisfaction is always guaranteed.