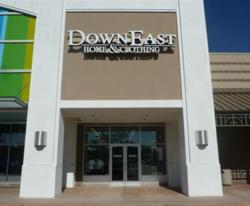 The welcome we've received at our new Jordan Landing location has matched, if not surpassed, what we've gotten at many of our out-of-state openings."
Salt Lake City, UT (PRWEB) July 26, 2011
High-style, low-price retailer DownEast Home & Clothing announced that its newest store in Utah opened this past weekend not only with significantly higher than projected sales, but also with a level of excitement among local shoppers. In fact, the response to the store located in the Jordan Landing shopping center in West Jordan is making the Utah-based retailer think seriously about additional new openings within its home state. Since 2008, DownEast has opened as many as two new stores per quarter throughout the West.
"It's always rewarding to see the popularity of the DownEast name and brand concept grow in new locations where there is high consumer demand, including in states like Arizona, Washington and more recently, southern California," said Rich Israelsen, chief operating officer for DownEast. "Whenever we enter these new areas, we hear shoppers saying how thrilled they are to now have a DownEast store local to them, as previously they could shop us only during visits to Utah or at our online store.
"With our new West Jordan location, what's especially exciting to us is that even in Utah, where we already operate a combined total of 24 DownEast Home & Clothing and DownEast Basics stores, the response has still been so positive. The welcome we've received at our new Jordan Landing location has matched, if not surpassed, what we've gotten at many of our out-of-state openings."
DownEast Basics stores exclusively carry DownEast Basics, the company's private-label apparel brand, while DownEast Home & Clothing stores carry stylish and budget-friendly home furnishings and accessories in addition to brand-name clothing. More than 500 people are employed by DownEast company-wide.
Based on the response from the West Jordan store opening, Israelsen feels confident there is potential for even more store locations to open in Utah, as well as in the neighboring state of Idaho, where it also already has multiple locations. "We're always looking for places to expand our retail presence based on customer demand, and it seems clear there continues to be opportunity even within our home state. It's great to be popular with the home crowd!"
DownEast Offers "Shopping's More Fun with Your Girlfriends" Giveaway
To celebrate the new West Jordan store opening, DownEast is offering a chance to enter a "Shopping's More Fun with Your Girlfriends" giveaway from Thursday, July 28, to Friday, August 5, 2011. Customers can register for the giveaway at DownEast's Jordan Landing store and also take advantage of other special grand-opening promotions. The giveaway will award one lucky winner a shopping spree valued at $200 and also present a $50 gift certificate to each of four friends selected by the winner. The winner does not have to be present at the time of the drawing on Saturday, August 6, to win.
For contest updates and news, customers can join the DownEast Home & Clothing Facebook Page. They can also follow the At Home with DownEast Home blog (downeasthomeblog.com) for special insights from DownEast's design team.
Visit the New DownEast Home & Clothing Store in West Jordan
The new DownEast Home & Clothing store is in the Jordan Landing shopping center at 7119 S. Plaza Center Drive in West Jordan, Utah. The store is located between Old Navy and TJ Maxx.
Stephanie Moates will manage the new store's staff of 15. Moates, a longtime DownEast employee, has previous experience managing the DownEast Basics store at the Layton Hills Mall in Layton, Utah, as well as serving as DownEast's kiosk manager at the Newgate Mall in Ogden.
About DownEast Home & Clothing
DownEast Home & Clothing (http://www.downeasthome.com), a leader in stylish and affordable apparel, home furnishings and accessories, believes that shopping should be a fun, guilt-free experience. Founded in 1991 and still family-owned and operated, DownEast continues its goal of bringing customers the very best merchandise including modest clothing – from national brands to its own DownEast Basics apparel – at the very best prices.
The DownEast Basics clothing line features smart layering pieces and wardrobe enhancing garments so you can embrace the American classic look with your own sense of style.
Shop for cute tops, modest dresses and accessories for women and girls at Downeastbasics.com.
The fast-growing retailer operates nationally with its Basics line via its online store in addition to 45 locations throughout the West including in Utah, Colorado, California, Idaho, Arizona, Washington, Nevada and Wyoming.
###