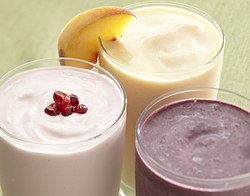 Mountain High Yoghurt can help dieters cut calories and fat with delicious summer recipes that use yoghurt as a substitute for cream, sour cream, mayo, and more.
Denver, CO (PRWEB) June 17, 2010
America's weight loss ambitions have become a perennial call to action, with national campaigns now being launched every year. Around New Year's, millions of Americans set goals to lose weight before summer arrives, but with more hours of sunlight in which to be active, the summer months may actually be the ideal time to lose weight. This year Mountain High Yoghurt can help dieters cut calories and fat with delicious summer recipes that use yoghurt as a substitute for cream, sour cream, mayo, and more. The following tips and recipes can help jump-start summer weight loss.
1. Start the day with a smoothie: One of the best ways to improve a family's diet is to hit the produce aisle. Fruits and vegetables add vitamins, minerals and fiber to keep dieters full and fueled. A cup of fresh fruit pieces, a cup of yoghurt and a splash of fruit juice whipped up in a blender make a satisfying low-calorie and healthy breakfast smoothie. "Many of Mountain High's breakfast recipes, such as Fruit & Granola Parfait and Yoghurt Oats & Fruit, also boost your fruit and fiber intake," says Chef and Registered Dietician Stephanie Green.
2. Lighten up lunch: Convenience can be a trap with fast food on every corner, but a little planning can help dieters escape. "Skip the burgers or pizza and try a chilled Avocado Cucumber Soup, or a serving of Mountain High's Lowfat Enchiladas, which has only 6 grams of fat and 32% of your Daily Value for protein," Green suggests.
3. Undress the dressing: Most salads seem healthy, but bottled salad dressings and deli picnic salads can be loaded with fat. "Make your own dressings and salads using Lowfat or Fat Free Mountain High Yoghurt as a substitute for the oil, sour cream or mayonnaise and you'll do your waistline—and your arteries—a favor," Green recommends. Mountain High offers makeovers of fruit, pasta, potato, and green salads on their website. Their Classic Potato Salad, for example, is much lighter than a deli version.
4. Spice up dinner: Marinating chicken breasts or lean pork in yoghurt instead of oil adds robust flavor and minimal calories. Yoghurt is a natural tenderizer and won't overwhelm the flavors of herbs and spices. "Mountain High's Spicy Tandoori Marinade recipe, for example, adds virtually no fat but transforms boring lean meats into intensely flavorful dishes that satisfy," says Green.
5. Double up for dessert: People seek rich and decadent foods for a reason: They offer intense flavor and satisfying textures. "Mountain High's thick and creamy texture satisfies cravings for richness while cutting fat and calories and adding beneficial probiotic cultures that help digestion," Green explains. She calls it "two benefits in one delicious package." For example, instead of fattening ice cream, dieters can try Frozen Yoghurt Pops for a cool treat that won't weigh them down.
More healthy entrées, side dishes, desserts and other recipes can be found on Mountain High's web site at http://www.mountainhighyoghurt.com.
About Mountain High: Mountain High's refreshing taste and smooth and creamy texture let dieters cut calories and fat without cutting flavor. The best-selling quart-size yoghurt in the Western United States, this premium-quality yoghurt contains only natural ingredients, including rbST-free milk. Every one-cup serving of Mountain High contains billions of the live, active, and probiotic cultures L. acidophilus, B. bifidus, and L. casei.
For media inquiries, contact media(at)MountainHighYoghurt(dot)com.
# # #