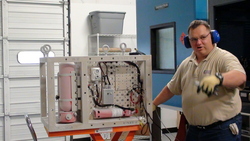 "Detroit Testing Laboratory and CVG Strategy together provide a comprehensive MIL-STD-810 and RTCA DO-160 service for our clients," Kevin M. Gholston, Vice President of CVG Strategy, LLC.
Viera, FL (PRWEB) February 4, 2011
CVG Strategy, LLC, the premier name in defense and manufacturing consulting announces a new alliance with Detroit Testing Laboratory, Inc. (DTL), a leading automotive and industrial testing and development laboratory. CVG Strategy, LLC and Detroit Testing Laboratory, Inc. (DTL) have been offering collaborated services for a year now and this announcement demonstrates a commitment to work together more closely in 2011 and beyond.
Many customers need help navigating Defense and Aerospace standards as they try to have their products tested at certified test laboratories. Third party certified test labs such as Detroit Testing Laboratory, Inc. (DTL) are supposed to have an impartial perspective. They find this difficult when asked to also give advice to customers on how to run their tests. This is where CVG Strategy, LLC fits in. They have the expertise to provide this support without any conflict of interest.
"We've had great success in managing customer tests at their labs," said Cindy V. Gholston, President of CVG Strategy, LLC. "They have well-equipped facilities and care about customer satisfaction."
CVG Strategy's Product Qualification Test Management Program starts with a Life Cycle Environmental Profile (LCEP) which incorporates product plans with flowed down contractual requirements into a broad view of the intended life of a specific product or class of products. This LCEP is used to develop Detailed Environmental Test Plans (DETP), one for each Method (MIL-STD-810) or Section (RTCA-DO160). These test plans help labs like DTL run each certified test in a repeatable manner that is compliant with the standard.
President and CEO Earl L. Smith of Detroit Testing Laboratory, Inc. (DTL) stated, "CVG Strategy helps companies achieve more definitive results by having a clear understanding of how they want to test their product."
About Detroit Testing Laboratory, Inc.
Detroit Testing Laboratory, Inc. (DTL) is an independent A2LA accredited testing and development laboratory, providing calibration, electrical, battery, mechanical, fuel systems, environmental, dynamics, and materials testing services to automotive and industrial clients since 1903. More information can be found at http://www.dtl-inc.com.
About CVG Strategy, LLC
CVG Strategy is a minority woman-owned consulting company located on the Space Coast of Florida just south of Cape Canaveral. Areas of focus are Defense, Product Qualification Testing, Manufacturing and ISO 9001:2008 Consulting for small- to medium-sized manufacturing companies. CVG Strategy's website is http://www.cvgstrategy.com.
###