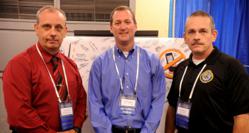 My focus for the next year will be on four points: data quality and uniformity, enhanced communication with stakeholders, strengthening partnerships and developing leaders," he explains.
GREENBELT, MD (PRWEB) October 09, 2012
Major Mark Savage of the Colorado State Patrol was elected President of the Commercial Vehicle Safety Alliance (CVSA) this week during the organization's Annual Conference & Exhibition in Portland, Maine. Savage served as the CVSA Vice President for 2011-2012. The CVSA membership also elected Sergeant Thomas Fuller from the New York State Police as Vice President and Captain William Reese from the Idaho State Police as Secretary/Treasurer. A new CVSA Executive Committee was also elected.
Mark Savage has been with the Colorado State Patrol for 18 years. In 2010, he was promoted to his current rank of major and assigned as the commander of the Motor Carrier Services Branch. He currently supervises the Port of Entry, Motor Carrier Safety Section, Hazardous Materials Section and Special Enforcement Section.
"I am honored to represent CVSA as the president. I will work diligently with our partners to promote the Alliance's mission of improving commercial vehicle safety and security, says Major Savage. "To that end, my focus for the next year will be on four points: data quality and uniformity, enhanced communication with stakeholders, strengthening partnerships and developing leaders," he explains."
Thomas Fuller has been with the New York State Police for 25 years. In 1998, he became the MCSAP Inspector with the Commercial Vehicle Enforcement Unit (CVEU), and since 2003, he has been the program administrator of the Hazmat, Radiological and Technology Program. Sergeant Fuller also is an associate staff instructor for the FMCSA National Training Center, a Radiological Interdiction instructor for U.S. Department of Homeland Security and one of nine national Level VI instructors.
William Reese has been with the Idaho State Police since 1986. After serving as the CVS sergeant and lieutenant, he was promoted to CVS Captain in 2010. As division commander, Captain Reese is responsible for Idaho's commercial vehicle safety and hazardous materials inspection and response programs. From 1995-2003, he also served as an associate staff member of the FMCSA National Training Center.
CVSA President's Awards Presented
David Palmer, Assistant Chief with the Texas Department of Public Safety, who served as CVSA president until September 26, 2012, presented three President's Awards during the Portland conference: associate member Mike Tallaksen from Frontier Logistics, LP, Kerri Wirachowsky from the Ontario Ministry of Transportation, and Larry Stern, whose served the commercial vehicle safety industry in many capacities over his 42-year career, most recently as CVSA's Director of the Level VI Inspection Program. Larry is retiring at the end of the year.
CVSA Scholarship Recipients Revealed
Tess Trosko and Feliciano Daniel Talavera are the beneficiaries of this year's CVSA scholarships. Trosko is the daughter of Richard Cortese from the Oregon Department of Transportation. Talavera's mother, Terri Gomez, is a police officer with the Motor Transportation Police Department, State of New Mexico.
About CVSA
CVSA is an international not-for-profit organization comprising local, state, provincial, territorial, and federal motor carrier safety officials and industry representatives from the United States, Canada, and Mexico. Its mission is to promote commercial motor vehicle safety and security by providing leadership to enforcement, industry and policy makers. The Alliance actively monitors, evaluates, and identifies solutions to potentially unsafe transportation processes and procedures related to driver and vehicle safety requirements most often associated with commercial motor vehicle crashes. In addition, CVSA has several hundred associate members who are committed to helping the Alliance achieve its goals; uniformity, compatibility and reciprocity of commercial vehicle inspections, and enforcement activities throughout North America by individuals dedicated to highway safety and security. For more on CVSA, visit http://www.cvsa.org.