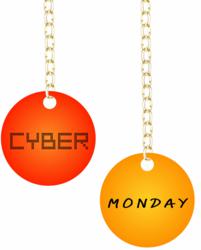 Cyber Monday 2012 is a day featuring the best online shopping deals of the year.
Cleveland, OH (PRWEB) November 21, 2012
Cyber Monday 2012 promises to have the year's best online shopping deals. However, it is difficult finding deals in the short time span they are available. Fortunately, new videos are now available to help consumers find what they need. Announcing the following brand new videos:
Cyber Monday Laptop Deals
Laptops are going to be hot sellers this year. With the competition heating up from tablets, desktops, netbooks, and smart phones, it's anticipated that laptop deals are going to be priced better than ever this year.
Cyber Monday TV Deals
3D TVs, LCDs, LEDs, and other HDTV sets are going to be deeply discounted for 2012. There will be deals on every size set, from 26 inches and smaller to 42 inches and larger. It's the perfect time of year to upgrade a TV.
Cyber Monday Camera Deals
Cameras make wonderful gifts for the holidays. Some people prefer point and shoot cameras while others prefer high end DSLR digital cameras of the best quality. Fortunately, deals will be available for both types this year. Best yet, the savings and special offers for cameras will be very lucrative. Often, it's possible to save $100 or more.
Cyber Monday Video Game Deals
Video games are hot every single year. This year, there are many new games and platforms to choose from. Bundled deals are also hot this time of year and there are going to be many options to choose from. Getting a free game in a bundle or a gift card for purchasing a console is not uncommon.
Cyber Monday Electronics Deals
Small electronics are always a big hit on Cyber Monday. Electronics deals this year are promising to be better than ever. Whether it's a new Blu Ray DVD player, a stand mixer, alarm clock or another type of electronic, the odds are it will be on sale this Cyber Monday 2012.
See Our YouTube Channel for More Videos
Visit our YouTube Cyber Monday 2012 channel to view all the videos. Or check out the coupons and promos videos that are now available. More examples of videos also include:
Clothes
Let's admit it, not everyone likes getting clothes for the Holidays. However, some people love shopping for clothes on Cyber Monday. Our video on clothing deals this year will help consumers decide where they want to shop.
Toys
Perhaps the most enjoyable gifts to give during the holiday season are toys. Kids light up with joy when opening a brand new toy during the holidays. Saving a few dollars here and there during Cyber Monday means extra money leftover to buy more toys.
GPS
Traveling from point A to point B could not be easier with a GPS device. This classic holiday gift will be another hot seller in 2012.
Jewelry
Not many people think of jewelry during Cyber Monday but some of the best deals jewelers offer is during this time. Even high-end items like diamonds and gold are often discounted for a brief period. Since jewelry is a large purchase, saving only 5% or 10% can result in hundreds of dollars in savings.
Books
With the growing popularity of eReaders and iPads, it's no wonder that books are more popular than ever. Whether it is a hard cover book or an electronic download, thousands of books will be on sale during Cyber Monday 2012.
About Cyber Monday
Cyber Monday is a relatively new term first coined back in 2008 and is the Monday following Black Friday. This unofficial shopping holiday is the equivalent to Black Friday for online retailers. Cyber Monday has also become famous in the workplace for being a time when workers spend company time shopping online. Many of the sales that are offered have a time or quantity limit so it is very important for the consumer to be at the right place a the right time in order to get these deals.
Cyber Monday is not just a phenomenon within the United States. Other areas around the world such as Europe, Australia, South America, and Asia are also plugged in to Cyber Monday deals. Retailers across the world will be offering special deals all day long.
Each year since 2005, the popularity of Cyber Monday has increased substantially. For example, in 2011 consumers spent an estimated $1.25 billion dollars (US) on Cyber Monday. Over one billion dollars spent in one single day! Yet, Cyber Monday 2012 promises to be the biggest one yet.
About Us
These Cyber Monday 2012 videos aim to simplify the shopping experience of the consumer on one of the busiest shopping days of the year. Rather than spending time online searching for deals, they can watch these videos and easily find links to the Cyber Monday deals they seek. This way, consumers can spend less time shopping only and get back to work this Cyber Monday.