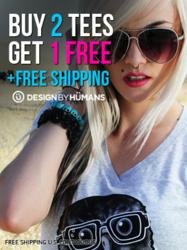 Save this Black Friday through Cyber Monday with Coupon Code: SCOREBIG
Chico, CA (PRWEB) November 21, 2012
The Black Friday and Cyber Monday deals at Design By Humans consists of buy 2 get 1 free on all shirts and new hoodies. There are also egift cards now available for purchasing and gifting. The sale includes all shirts of the day, the top 50, the DBH Collective and new graphic hoodies. There are new DBH Collective stores that have over 200 new t shirt designs, and there is a larger inventory of Shirts of the Day, and hoodies. Shop the growing selection of vintage, retro, artsy, abstract, funny, and unique t shirts. This Black Friday sale is the best opportunity to save on the entire Design By Humans Collection. On the biggest shopping days of the year Design By Humans is helping consumers save on the entire selection of graphic t shirts.
Black Friday and Cyber Monday Deals
Use Coupon Code: SCOREBIG to Buy 2 Get 1 Free T Shirts
Free Shipping on All Domestic US Orders
New Limited Edition Hoodies
Pick you own color tee in the DBH Collective
New Egift Cards
Purchase as Gifts, Send them to a Friend
Buy 2 Get 1 Free
From Black Friday to Cyber Monday enter Coupon Code: SCOREBIG to receive a free t shirt when you buy two. For the first time the DBH Collective t shirts will be included in the sale, along with all shirts of the day, hoodies and limited edition tees. Now is a great time to stock up on old favorites, or buy some great holiday gifts.
New Limited Edition Graphic Hoodies
For the first time Design By Humans is now selling graphic hoodies. These will be limited edition hoodies that are selected designs from the best sellers in each category. The new graphic hoodies are included in the buy 2 get 1 free, Black Friday to Cyber Monday sale.
Send an E Gift Card for the Holiday's
There are now DBH e-gift cards available to email as a gift voucher. Simply enter the dollar amount, and recipients email to send them a holiday gift. There will be an e-card email sent to the recipient for the amount selected good for any Design By Humans clothing.
Growing DBH Collective T Shirts
The Black Friday sale will be the first sale including the DBH Collective shirts, so now is a great chance to test out the new direct to garment printing and custom t shirt colors. There are over 50 new stores with over 400 new designs to choose from. There is a vast variety of custom t shirt color options from an ever growing population of unique t shirt designs.
Graphic T Shirts as Gifts
DBH Graphic shirts are a great gift for the boyfriend, husband, students and eccentric young professionals. So when sitting asking, "What do I get an artists, a student, or a kid that's plays video games all day?" There are Design By Humans e-gift cards, unique graphic shirts, and hoodies.
This Black Friday through Cyber Monday sale there are the best deals on gift giving this holiday season. There are egift cards to email to a friend, or options to purchase shirts and send them to a recipient. It's the season of giving around the world at Design By Humans, the buy 2 get 1 free sale is here to help with saving money and giving a cool gift this holiday season. So warm up with new hoodies, enjoy a special discount this weekend, or purchase an E gift card for someone special.
This Black Friday save money and avoid the hustle and bustle of shopping busy street at DesignByHumans.com. Happy creating, designing, and gifting this holiday season from Design By Humans. Have fun picking out an awesome t shirt for you, your family or friends.